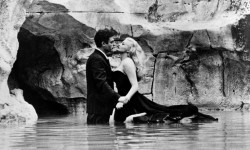 Last week I reviewed still-active Italian director Bernardo Bertolucci's breakthrough film "The Conformist," but that's not the only Italian classic new to Blu-ray. The legendary Federico Fellini (1920-1993) is probably the best-known director of Italian cinema around the world, by name at least, even among people who have seen few, if any, of his films. He has influenced not only numerous other directors but popular culture itself, with his own name turned into the adjective "Fellini-esque" to describe surreal excesses reminiscent of his later films. One of his characters, a persistent photojournalist named "Papparazzo," has been pluralized to become an international term for overly-persistent media photographers constantly hounding celebrities. This character and a large part of Fellini's reputation both come from his career-shifting film "La Dolce Vita" (1960), which was released on a stunning new Blu-ray from the Criterion Collection several weeks ago.
Fellini's earlier films were often rooted in the post-World War II Italian neorealist movement, but with "La Dolce Vita" he gleefully abandoned that mode for a fresh approach influenced by the French New Wave, classical cinema, and his own idiosyncratic style, anticipating the new direction of Italian cinema and independent international filmmakers throughout the following decade. One of the reporters in the movie even asks a character, "Do you think that Italian neorealism is dead?"
Although mostly shot on actual locations, the neorealistic focus on poverty and the working classes is largely absent from "La Dolce Vita" (with a few brief exceptions), marking a drastic departure from his acclaimed 1950s classics like "La Strada" and "Nights of Cabiria." Fellini would later depart into even more eccentric and self-indulgent filmmaking, but "La Dolce Vita" easily stands among his best films, along with "8½" (1963) and "Amarcord" (1973). One of the essentials of international cinema, "La Dolce Vita" is a film that gains in depth and understanding with each viewing; it has that odd ability to document its own era so vividly and yet still resonate strongly with the present day, over a half-century later.
The story takes place in Rome over the course of a few days and nights, following the actions and observations of jaded journalist Marcello (Marcello Mastroianni) as he encounters a wide variety of people: mostly the rich and famous, and wannabes hoping for some publicity; sometimes the diverse women he is involved with in conflicted relationships; and sometimes those whom he renews acquaintance with (like a troubled old friend and his aging father) or randomly crosses paths with. Over the course of the film his passive acceptance and exploitation of "the sweet life" changes to disenchantment and a questioning of his own conflicting values and those of society. Mastroianni is well-supported by Yvonne Furneaux as his needy fiancée, Anouk Aimee as his wealthy socialite mistress, and Anita Ekberg as an American-Swedish movie star he becomes attracted to.
The pervading darkly comic satire, largely inspired by and loosely fictionalizing several actual events, provides an overview of Italian society that was then in rapid transition, and foreshadows the international celebrity-obsessed and largely superficial society we pretty much take for granted today. "La Dolce Vita" would make an appropriate co-feature with Billy Wilder's "Ace in the Hole" (1951) and Alexander Mackendrick's "Sweet Smell Of Success" (1957), as it takes the cynically critical themes of media celebrity that both films explore and expands their more traditional narratives into a free-form, episodic example of modern cinema, comparable in certain ways to Truffaut's "The 400 Blows" and Godard's "Breathless," as well as films by Antonioni, Buñuel, Resnais and others.
Picture quality on Criterion's Blu-ray of "La Dolce Vita" is outstandingly crisp and clear for the most part; the spectacularly-composed 2.35:1 wide CinemaScope image was scanned in 4K HD from the camera negative, with some sequences slightly softer due to a scan from a fine-grain positive. The mono audio is very strong; its good range of frequency and dynamics are a great showcase for Nino Rota's score. Dialogue is Italian with optional English subtitles, but there are occasional conversations and phrases in English, French, and German.
Bonus features include a fold-out leaflet instead of the usual booklet, with one side containing credits and disc info, while the other side has a fine analytical/historical essay. While there is sadly no audio commentary, the disc has several fascinating interviews (most in HD): archival ones with Fellini himself and Mastroianni, and newly-recorded interviews with director (and Fellini colleague) Lina Wertmüller and two scholars. There is also an enlightening video featurette (in HD) on the film's use of cinematography, and an image gallery of advertising and press materials.
LA DOLCE VITA on Blu-ray – Movie : A- / Video : A / Audio : A / Extras: A-