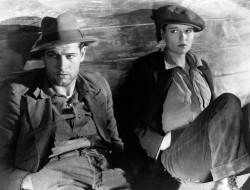 Just released to Blu-ray August 22 is one of the favorite films by noted director William Wellman, who had made the very first Best Picture Oscar-winner "Wings" (1927), the year before this more personal, intimate, and eerily prophetic character drama.
Wellman's "Beggars of Life" was released to theatres in September 1928, more than a full year before the stock market crash and the beginnings of the Great Depression, yet it deals vividly with the homeless hobo culture trying to survive from day to day.
The film was inspired by a best-selling memoir by Jim Tully, who had wandered the country (mostly his home state of Ohio) as a tramp during the recession of the 1890s-1900s before becoming a writer.
It was also based on a 1925 play of Tully's adventures by UND alumnus Maxwell Anderson. The stage version was called "Outside Looking In," and was set in Williston N.D. and Montana. Charlie Chaplin attended the play three times, once along with then-mistress Louise Brooks.
"Beggars of Life" is easily the best American film starring the now-legendary film icon Brooks, showcasing the seemingly effortless natural, ahead-of-its-time style she would display in 1929 for German director G. W. Pabst in "Pandora's Box" and "Diary of a Lost Girl," the two films that she is now best-remembered for.
Many critics and other actors of the era accused her of not "acting," but merely being there, the very trait that makes her performances now seem modern while other actors of that time often come off as overacting and dated.
Wellman hoped to star Brooks opposite James Cagney (the role that eventually made a star of Jean Harlow) in his key early sound film "The Public Enemy" (1931), but Brooks unfortunately turned him down. That decision effectively destroyed her Hollywood career, which had already been on a downswing after she refused to dub her own dialogue for a sound version of the silent mystery "The Canary Murder Case" for Paramount.
In "Beggars of Life," Brooks plays a teenage orphan who murders her sexually abusive stepfather and runs away with a passing tramp (Richard Arlen, of "Wings") who accidentally discovers the killing when he stops in to beg for a meal.
The pair gradually fall in love, especially after getting mixed up with a gang of rough hoboes led by veteran character actor Wallace Beery (who received star billing) in one of the most skillfully-nuanced performances of his career.
Unexpectedly and interestingly, there is a significant serious role for an African-American character, one of the band of hobos who is caring for a sick, white friend. This is played with unusual dignity for that era of filmmaking by actor Edgar "Blue" Washington, a former baseball player for the Negro Leagues.
"Beggars of Life" is a powerful, often grim, but ultimately hopeful story of poverty, and seeking both happiness and redemption. A few portions, especially towards the end, verge on sentimentality that may slightly dilute the overall grittiness and realism that many viewers of its era found distasteful and vulgar.
When it came out, reviews were mixed, some calling it "too realistic" for what movies should be showing, yet some critics put it among their best of the year. It now stands as one of the masterpieces of the Hollywood studio system, sound or silent.
It's easy to understand why the director considered it the best of his silent productions. The film demonstrates the power of visual storytelling at the height of the silent era.
Wellman made "Beggars of Life" as a silent, but talkies had arrived by 1928 and Paramount added a soundtrack of music, sound effects, limited dialogue, and a drinking song sung by Wallace Beery. That sound version no longer survives, but we have Wellman's original 82-minute silent cut.
For many years the film has been difficult to see at all, usually only in dark, contrasty, barely watchable video copies from a poorly-made 16mm dupe of the only known copy (also on 16mm film).
Kino's Blu-ray from the George Eastman 35mm restoration looks very nice, although it is slightly softish throughout due to the fact that the only surviving print was a 16mm reduction from the now-lost 35mm negative. The Eastman Museum carefully blew that print back up to 35mm, preserving its good original contrast range. Fine details and textures are not quite what a 35mm camera negative would yield, but are now drastically better than what has previously been available, giving the story a new life and vitality.
The music score by the Mont Alto Orchestra is excellent. The orchestra's director, Rodney Sauer, has published an illuminating online essay on compiling the score from the original music cue sheet and other period-appropriate mood music at http://www.mont-alto.com/recordings/Beggars%20of%20Life%20Score/BeggarsOfLife.html
Bonus items include a pamphlet and two different audio commentaries, one with numerous interesting anecdotes by the director's son William Wellman, Jr., and the other a more detailed historical and stylistic analysis by Louise Brooks expert Thomas Gladysz, who recently wrote a companion book to this film.
Wellman tends to have quite a few pauses in his commentary but remains consistently interesting with his first-hand information. Gladysz also has a few pauses, but gives a very engaging and in-depth background on the film, plus plenty of details about Brooks and quotes from her own essays and letters. Both commentaries are excellent additions to the Blu-ray.
BEGGARS OF LIFE on Blu-ray -- Movie: A / Video: A-/B+ / Audio: A+ / Extras: B