​Reappraising some 1950s teensploitation films
by Christopher P. Jacobs | .(JavaScript must be enabled to view this email address) | Cinema | July 22nd, 2015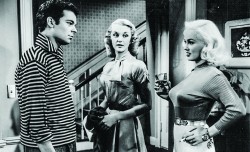 Summer is drive-in season, traditionally a time for movies aimed at teens and sensation-seeking adults. Several of notorious producer Albert Zugsmith's films are now on Blu-ray. The most critically-acclaimed of them, Orson Welles' masterful "Touch of Evil" (1958), got a U.S. Blu-ray release in April 2014 from Universal. Olive Films released three of Zugsmith's next four films to Blu-ray within the past year. Like the output of his prolific contemporary Roger Corman, these summer pictures are more in keeping with a fondness for exploitation movies that would help fill screens at drive-ins and grindhouses.
Whereas Corman focused primarily on horror films, Zugsmith more often capitalized on contemporary pop culture, shamelessly sensationalizing hot-button topics that make them vivid time capsules of late-1950s attitudes and customs. Yet despite their high melodrama and slangy dialogue often escalating into campiness, many aspects remain timely today. While exploring and raising awareness of serious socio-political issues usually avoided by Hollywood, these films simultaneously provided safe, satisfying resolutions, if not out-and-out morality plays for audiences of the day.
All are competently made and entertainingly acted. Each featured a major name or two and incorporated a stock company of supporting actors, some of whom would find later fame and/or were children of famous film personalities. Curiously, Jackie Coogan and Charles Chaplin, Jr., among others, appear in all three. The overlapping casts make them fun to watch back to back. Each was shot in black-and-white CinemaScope, incorporated varying elements of film noir, ran approximately an hour-and-a-half, and was released theatrically by MGM.
Better-known at the time for his science-fiction work, Jack Arnold directed "High School Confidential" (1958), a cautionary tale of drug-dealing and delinquency in high schools that begins as a straight teen drama but eventually devolves into a didactic parable.
Russ Tamblyn stars as a tough, nonconformist kid who immediately commands the attention of students and faculty when he begins at a new high school. He soon works his way into a gang, making new friends and enemies, and discovers how to obtain marijuana and other drugs, a particular obsession of his. A concerned teacher (Jan Sterling) hopes to reform him while his young aunt (Mamie Van Doren) would rather seduce him while her husband's away. However, there's more going on than meets the eye, and inevitably the authorities get involved.
Olive's HD transfer is quite sharp, showing some minor wear on the film elements. Sound is decent. Like most Olive releases, there are no special features beyond a menu and chapter stops.
"HIGH SCHOOL CONFIDENTIAL" on Blu-ray – Movie: B- / Video: A- / Audio: A- / Extras: F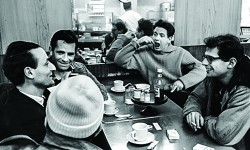 Although the title of "The Beat Generation" (1959) promises an exposé about the beatnik subculture of alienated young people who hang around coffeehouses discussing philosophy and listening to alternative jazz/blues music, that aspect is a relatively minor concern of the plot. When it does surface, it's handled as a social satire of stereotypes leading to incongruous moments of broad slapstick comedy in what is otherwise a taut crime thriller that's almost Hitchcockian at times.
Charles F. Haas directed from a script by Richard Matheson and Lewis Meltzer that is essentially a noirish police procedural of a troubled cop (Steve Cochran) trying to catch a charismatic and clever serial rapist (Ray Danton), whose misogynistic personality isn't that much different from his own.
Danton's charming, well-educated but psychologically damaged character mentors the beatnik group, while living a double life as the methodical stalker-rapist who makes it look as if his victims encouraged his advances, and intentionally leaves clues that will help the police track him down. When he arrogantly picks the cop's wife (Fay Spain) as his next victim, another daringly touchy subplot develops, dealing with attitudes on sexual assault, abortion, adoption and acceptance of unplanned children who may also have an unplanned father. Mamie Van Doren is a sexy divorcee Cochran wants to use to catch Danton.
Olive's Blu-ray again is very sharp, with minor dust on the negative showing up as white specks. Sound is fine. As usual there are no bonus items.
"THE BEAT GENERATION"on Blu-ray – Movie: B / Video: A- / Audio: A- / Extras: F
Charles F. Haas also directed "The Big Operator" (1959), the darkest and most violent of the three films, as well as the most consistently dramatic, from a story by Paul Gallico about union corruption. Mickey Rooney gleefully plays against type as a cocky, ruthless union boss whose strong-armed intimidation and bribery of management and laborers alike have led to his investigation by federal authorities, including televised hearings. Ray Danton plays the cold-blooded henchman known as "The Executioner," who dutifully carries out various orders to threaten, brutalize and/or eliminate anyone who stands in the way of his boss's operations.
Steve Cochran and Mel Tormé are honest factory workers and proud union members who inadvertently witness Danton delivering incriminating documents to Rooney after he's rubbed out a man about to testify to the Senate committee. They naively don't realize the significance of the meeting until Rooney attempts to hire each of them for his personal staff at a large salary, and they know for certain something is wrong after each is abducted and viciously tortured.
When the two still refuse to cooperate, Tormé is doused in gasoline and set on fire, while Cochran's young son (Jay North, before his "Dennis the Menace" years) is kidnapped to coerce Cochran to testify in Rooney's favor. At this point the film becomes a surprisingly routine police procedural as Cochran retraces his way back to the crooks' hideout for investigator Jim Backus. Mamie Van Doren this time is Cochran's worried wife.
Olive's Blu-ray has a fine, film-like HD image. Sound is nicely reproduced but is often slightly out of synchronization with the picture. Again there are no bonuses.
"THE BIG OPERATOR" on Blu-ray – Movie: B- / Video: A / Audio: A- / Extras: F