​Rethink Dance Film Festival
by Brittney Goodman | .(JavaScript must be enabled to view this email address) | Cinema | September 25th, 2019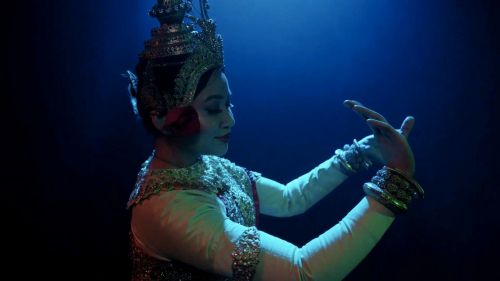 For the second year, the Rethink Dance Film Festival is coming to Fargo, a collaboration of The Human Family and the Rethink Dance Company. The program is on Tuesday, October 8 at the Fargo Theatre's Second Screen at 7 pm. Nine films from all over the world will screen in this program of dance films. Tickets are $7 in advance and $10 at the door. The event sold out last year, so advance tickets are a wise idea.
The Rethink Dance Film Festival showcases artists in front of and behind the camera working to challenge the traditional structures of choreographic storytelling and artistic expression. The programming is a series of short films with one feature. The films come from the US, the Congo, New Zealand, Spain, The Netherlands and Russia.
Haylee Thompson, Artistic Director of Rethink Dance Company, says that attendees of the event should expect "a unique experience that will open their eyes to look at not only dance, but cultures, and lead to ideas that spark their creativity."
Rethink Dance Company is Fargo-based and consists of dancers who focus on telling stories through movement. The company began in 2011 and is "still evolving," according to Thompson. "We dance to challenge and inspire people to discover our shared humanity and to shed light on social issues through the art of dance," asserts Thompson. She serves as the artistic director who "gives a vision" but allows the dancers to "come up with choreography collectively."
Thompson describes the dance company as "a passion project" that she is ready to push: "Now is just as good a time as any to dive in and work on refining it and figuring out where we want to go and how it will unfold in the next handful of years." When returning from her education in Auckland, New Zealand, Thompson came back to Fargo and saw a need to bring dance to children, older adults, people with special needs and other populations.
Thompson met Sean Hoffman from The Human Family through The Arts Partnership: "I was always interested in movement and film. It was so cool to be connected with someone so similar – it was like fate."
The first Rethink Dance Festival was made possible through a grant from The Arts Partnership.
The Human Family is a non-partisan nonprofit that started in Fargo in 2017 with a focus on promoting human rights and social justice through film and art. In addition to the Rethink Dance Film Festival, The Human Family has brought the Human Rights Film Festival and the Human Rights Art Festival to our area.
Sean Coffman, executive director of The Human Family has a background in filmmaking and "a strong passion for social justice." Coffman says that it was "a natural evolution to merge those passions into a single entity" for the Rethink Dance Film Festival. The Human Family's offices are located in Fargo with a three-person staff. However, their programming is throughout North Dakota. Their festivals have traveled from Fargo, Bismarck, Grand Forks, and Minot.
"We are conscious that are content is available to the whole state," Coffman said. He described the organization as "facilitating community change."
Coffman mentioned that bringing the programming to Minot was an invigorating experience.
"I have been really impressed with how the community of Minot has changed," Coffman said. "The demographic is young and eager and the energy is so positive."
Coffman has produced several films, including "Three Women," a film about the evolution of a cancer through the music of three musical artists and "Rise," a dance film which is currently in the film festival market. He has lived in Fargo for seven years and grew up in a military family moving around the continental United States and Alaska. Prior to starting The Human Family, he worked for the American Red Cross.
When asked about the films showing at The Rethink Dance Film Festival, both Coffman and Thompson had some favorites. Both Thompson and Coffman mentioned "DANCING7CITIES" which was awarding the best feature documentary of the festival. "DANCING7CITIES" focuses on how to incorporate dance in your environment and also dance in marginalized communities. "Dancing in Silk" features young Cambodian dancers, in a country where dancing has almost been eliminated due to genocide.
Thompson thinks that the Rethink Dance Festival will continue to grow and that "hopefully next year we will expand our audience enough to use the Fargo Theatre's large theatre."
IF YOU GO:
WHAT: Rethink Dance Film Festival
WHEN: October 8, 2019, 6:30 p.m. doors 7 p.m. event
WHERE: The Fargo Theatre, 314 Broadway N., Fargo
COST: $7 in advance – Eventbrite on website and Facebook; $10 at the door; seniors and students: $3