​'S Is for Stanley' shares stories of Kubrick as told by his driver
by Greg Carlson | .(JavaScript must be enabled to view this email address) | Cinema | June 28th, 2017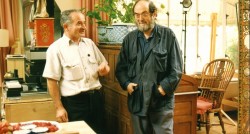 Now available on Netflix following a lengthy film festival run, Alex Infascelli's "S Is for Stanley" is required viewing for Kubrick obsessives and cinephiles.
Based on Emilio D'Alessandro's memoir "Stanley Kubrick and Me," the documentary presents a chronological account of the relationship between the legendary filmmaker and the unassuming family man and driver who would labor as Kubrick's courier, chauffeur, gofer, and personal assistant for three decades.
D'Alessandro went to work for Kubrick in too-good-to-be-true fashion: he made a safe and timely delivery in inclement weather of the "rocking machine" -- the penis sculpture/murder weapon brandished by Alex in "A Clockwork Orange" -- and the rest is history.
Like some of the anecdotes shared in Jon Ronson's fascinating, parallel "Stanley Kubrick's Boxes," the stories expressed by D'Alessandro -- which often speak to Kubrick's fastidiousness, intellect, and obsessive note-writing -- are illuminated with complementary images of both the daily minutiae of SK's longhand and typed instructions as well as numerous physical objects and artifacts accumulated over the years by D'Alessandro.
Kubrick fanatics will love the goofy, endearing missives about getting fussy jacket zippers repaired just as much as the supply of tasks directly related to film productions from "Barry Lyndon" to "Eyes Wide Shut."
D'Alessandro dispels no myths governing Kubrick's reputation as an eccentric, offering multiple examples of the spectacularly high expectations set by the director for the devotion, competence, and all-hours availability of those in his employ (one comical aside relates Kubrick's desire to have D'Alessandro install a telephone in the latter's farm tractor so that he might be reachable in the field).
But Infascelli and D'Alessandro also take care to reveal Kubrick's largesse and magnanimity, including an offer of help following a devastating accident that severely injured D'Alessandro's son.
Infascelli makes good choices with regard to organization and pacing, and displays confidence and comfort in his reliance on D'Alessandro's on-camera interview as the backbone of the narrative.
Kubrick's presence, of course, is every bit the movie's main attraction, and Infascelli uses voiceover by Anthony Clive Riche (and Roberto Pedicini in the original Italian language version) as Kubrick whenever key text is read aloud.
D'Alessandro's wife Janette Woolmore is the movie's only other significant subject to appear in content newly shot for the film, and she contributes several insights that whet the appetite and fire the imagination for thousands of fans, who will marvel at the simultaneously ordinary and extraordinary world built by Kubrick (a great example of which is carpet from the Overlook Hotel set of "The Shining" that still covers the floors of the home shared by Woolmore and D'Alessandro).
D'Alessandro is not shy about naming famous names, and Kubrick would frequently ask his opinion of the actors selected for important roles, but Infascelli holds the gossip to a minimum.
Jack Nicholson is torched by D'Alessandro for the twin vices of sexual conquest and cocaine. Tom Cruise shared a brief silver screen moment with D'Alessandro when Kubrick asked the latter to appear as a news vendor. And even though little detail is offered, D'Alessandro and Matthew Modine bonded like father and son.
Aside from the celebrities, Infascelli projects warm regard for Christiane Kubrick, who introduced the documentarian to D'Alessandro. Disappointingly, although not surprisingly, "S Is for Stanley" does not discuss Kubrick's more well-known personal assistant Leon Vitali, leaving aficionados to speculate as to the nature of the relationships within Stanley Kubrick's trusted inner circle.