Sanctified: Great film in the Bad lands
by Sabrina Hornung | .(JavaScript must be enabled to view this email address) | Cinema | January 30th, 2020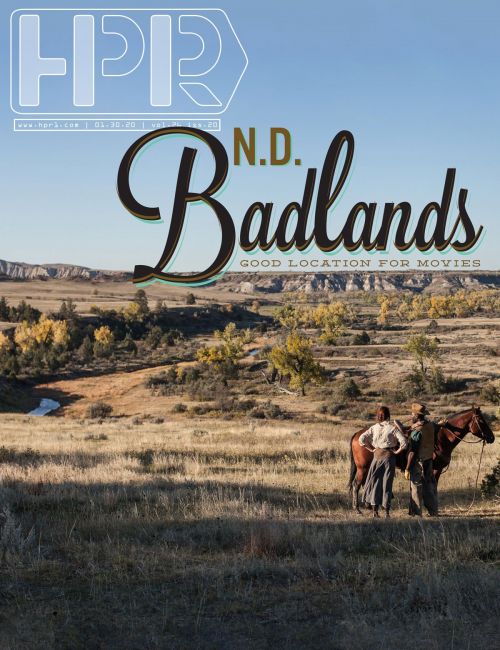 In this part of the world there's something about a good western that resonates among us. Whether we grew up watching them with our families or whether we developed a love for the genre as an individual. This especially rang true for Dan Bielinski who grew up watching John Wayne films. When Bielinski traded in the lights of New York City for the Northern lights of North Dakota to direct the theatre program at the University of Mary in Bismarck he fell in love with Western North Dakota. Bielinski is a man of many hats. He received his MFA in Acting from Columbia University in NYC. and worked as an actor there as well. Along with his work at the University of Mary, his latest venture is serving as executive producer of "Sanctified," the first feature length period western film to be filmed in North Dakota. The film is set to begin filming near Medora May 2020 and the theatrical release is set for the spring of 2021.
The film is a collaboration between him and D&N Cinematics, a Bismarck-based production company. Though "Sanctified" isn't their North Dakota filmmaking debut. Together they've produced four short films.
"They don't have direct ties to this film, however the last of those short films called 'The Badlands Girl' was a period western film, that was a 20 minute film shot in the badlands and released in the spring of 2018 and that was supposed to be kind of a proof of concept." Bielinski went on to say, "Something to demo what a feature film would look like in the North Dakota badlands. That was something that we showed the investors of our feature film as proof of the quality of our work and what a North Dakota western film would look like and something that we're using now to raise awareness and excitement for our full length feature film."
When asked what attracted Bielinski to the Western genre he said, "I think just being in North Dakota. When I arrived and saw the badlands I thought to myself, what a beautiful location and it's alive in a way-- with individuals living really rugged lives in western North Dakota. I know a lot of individuals out there and want to tell stories that reflect their way of life. Also there's never been a period western film that's been made in North Dakota, and I thought it would be a good opportunity to be the first."
The film will be about an outlaw betrayed by his gang and left for dead, the outlaw is eventually saved and nursed to health by a nun traveling through the badlands. In exchange for her kindness the outlaw guides her through the badlands.
Bielinski said, "I've always wanted to tell a story about a nun because well... nuns are cool. There's been one other western about an outlaw and a nun and it starred Clint Eastwood and it was called "A mule for sister Sarah." In that movie the nun turns out to be a prostitute so our story is very different! I think the idea of putting a nun and an outlaw on a road trip together in the badlands in the 1890s was an appealing prospect. I think there's a lot of dramatic potential there and a lot of comic potential even."
One of the sponsors behind "Badlands Girl '' was the North Dakota Cowboy Hall of Fame based in Medora. Not only did they provide a valuable perspective on North Dakota's western heritage, they also served as a connecting point to area ranchers--who even served as extras.
"Even though I didn't grow up here in ND, I've spent a lot of time with people out in western North Dakota since I've lived out here. It's a really beautiful way of life and it's something I'm really interested in celebrating." Bielinski said.
Along with area ranchers Bielinski is also collaborating with local artists, one of which is Bismarck based ambrotypist Shane Balkowitsch. He said, "I reached out to Shane because I've been a big fan of the work he does, he has such a unique art style and he's just a larger than life artist himself. Because we're doing a period western film that lies historically within that range of time where wet plate photography was actually in existance and common, I thought it would be great for him to come to set and do some of his work with our cast and even some of our crew."
He went on to say, "I think it will be a huge asset to our production and I think it's been a priority for me to get as many North Dakota artists involved with this production as possible. Filmmaking is a huge collaborative art and there can be so many different ways that artists from across North Dakota can contribute. We've gotten a lot on board now because of our team but I'm hoping that we'll still attract more artists from across North Dakota."
The soundtrack will be written as soon as the film is shot. Bielinski went on to say, "We're shooting the film in May, and after it's done it will be edited together. Then we'll hire a musician or team of musicians to compose a score based upon how the edit is looking. We haven't chosen our musicians yet and we haven't hired a composer yet. A lot has yet to be seen."
Along with musicians and visual artists, D&N Cinematics is hosting an open call for auditions in Bismarck on Friday, January 31 in Bismarck and February 1 in Medora. It is an open call, D&N Cinematics is looking for men and women ages 18-70 for supporting and background roles. Actors must appear in person ad audition scripts are available before the audition and can be found on the "Sanctified" and "D&N Cinematics" facebook pages.
"Filmmaking to me is one art that includes so many different arts. I feel like it's really an open door for artists to make their own place. Being an artist in North Dakota can be an uphill battle and I think it's important. " Bielinski said.
IF YOU GO:
Sanctified Auditions Bismarck
Friday, January 31, 10 am-3 pm
D&N Cinematics, 212 East Main Ave. Bismarck
Sanctified Auditions Medora
Saturday, February 1, 11 am-3 pm
Medora Community Center, 465 Pacific Ave, Medora
YOU SHOULD KNOW:
https://www.sanctifiedfilm.com
@sanctifiedfilm