​Sciamma's "Girlhood" shines bright like a diamond
Cinema | June 17th, 2015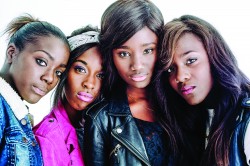 "Girlhood," Céline Sciamma's third feature and the conclusion of what the filmmaker considers a coming-of-age trilogy, continues her engagement with the bildungsroman. Not as contained as debut "Water Lilies" or as directly preoccupied with gender as "Tomboy," "Girlhood" follows the trajectory of teenager Marieme (Karidja Touré), a bright young woman whose grades are nevertheless inadequate to secure her a continuing spot in school. The alternative, placement in a vocational program, is such a disappointing prospect that Marieme joins a group of fellow dropouts, trading her quieter and more conservative identity for a scrappy tough girl ready to menace suspicious shopgirls and bully the meek out of their pocket money.
Sciamma has a treasure in screen newcomer Touré, whose observant Marieme invites the viewer to share her experiences. Marieme's companions Adiatou (Lindsay Karamoh) and Fily (Mariétou Touré) are led by Lady (Assa Sylla), whose fistfight with a bitter rival simultaneously humiliates and inspires Marieme to assert more power within the quartet. As the reborn Vic (short for Victory), Marieme bonds in several ways with her adopted sisters. Sciamma observes changes big and small as Marieme begins to tentatively step away from her role as caregiver to a pair of younger siblings in favor of the validation and camaraderie she enjoys with her peers.
Much has been made of a standout scene in which the girls put on dresses and dance to Rihanna's "Diamonds" during a hotel room idyll. The song, charged with the aspirational intertextuality of the singer's biography, works as both a reminder of the long odds faced by Marieme and the warmth of her sisterhood with Lady, Adiatou and Fily. Kate Stables draws a general comparison between "Girlhood" and Andrea Arnold's "Fish Tank," via "these oppressed tower-block teens, juggling big desires and limited options," and the parallel can be extended to the music, as the hopeful presence of "Diamonds" functions similarly to Arnold's use of Nas' "Life's a Bitch."
Just as Marieme begins to discover her place within the core group and the larger community to which the smaller factions belong and/or interact, her blossoming relationship with Ismael (Idrissa Diabaté), a close companion of her abusive older brother, threatens the precarious equilibrium. Chastised for imagined promiscuity, Marieme bristles at the patriarchal hypocrisy, and Sciamma firmly filters the sexual exploration through Marieme's point of view, capturing her resentment and frustration.
The final movement sees Marieme graduate to a less savory means of survival than either the safe(r) but static nuclear unit in the projects or the delinquency that comes with membership in Lady's clique. While the narrative anticipates some kind of third act Hogarthian rake's/harlot's progress, Marieme's yearning intelligence commands ongoing audience sympathy, even when she makes questionable choices. Additionally, Sciamma subverts any expectation that the indoctrination of Marieme into the "gang" is representative of corruption or moral deficiency.
Marieme's employment by a manipulative and significantly more dangerous drug dealer alludes to darker thresholds, and Sciamma hints at some challenging gender issues when Marieme morphs between a masculinized persona dependent on breast binding under a baggy sweatshirt and a high-heeled, platinum-wigged courier with uncomfortable hints of being groomed for sexual exploitation. She is caught between two unsustainable options, but is there a third? In arguably the film's finest exchange, Marieme rejects Ismael's marriage proposal, wisely reasoning that even if the solution would remove the double-standard stigma and make her a "decent girl," the inevitable future pregnancy would force her into a life she doesn't want.
"Girlhood" is now available on Netflix instant watch.