​'Seeing Allred': Sundance doc on iconic attorney now on Netflix
by Greg Carlson | .(JavaScript must be enabled to view this email address) | Cinema | March 7th, 2018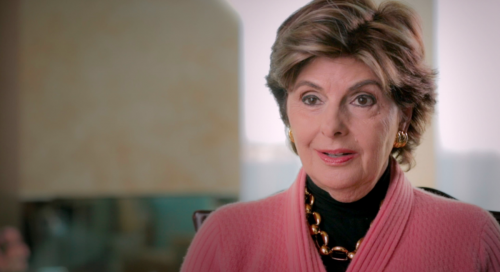 Iconic feminist and women's rights attorney Gloria Allred is the subject of Sophie Sartain and Roberta Grossman's "Seeing Allred," now on Netflix Instant Watch following its debut at the 2018 Sundance Film Festival in the U.S. documentary competition.
The veteran filmmakers craft an unapologetically worshipful highlight reel of Allred's life and career, successfully recontextualizing the widespread public and media perception of the lawyer as a publicity-seeking celebrity who never turns down an opportunity to appear on television.
Instead, "Seeing Allred" makes good on its title -- illuminating many details of the now 76-year-old's long crusade against gender-based discrimination.
Like so many personality-driven documentaries, "Seeing Allred" appears to soften criticism and scrutiny in exchange for access to its subject.
The archival content spans several decades (the movie opens with a snappy 1977 clip from Dinah Shore's talk show) and easily beats both the fawning talking heads and the endless supply of images illustrating the road-warrior realities of Allred's life in airports and hotel rooms.
Footage of Allred holding press conferences with victims of sexual misconduct and assault constitutes another of the movie's key categories.
Sartain and Grossman gamely press Allred with a few pointed questions, even though they seem to know their "witness" will elect to withhold information. This particular kind of back-and-forth applies most obviously to a short passage on the contentious break-up of Allred's second marriage, but also pops up when Allred speaks to her daughter Lisa Bloom's decision to briefly represent Harvey Weinstein in the fall of 2017.
The moviemakers, favoring breadth, fare much better on the solid ground of topics like Allred's participation in the efforts that led to the passage of California's SB 813, removing the statute of limitations for the criminal prosecution of rape and sexual assault.
Allred's involvement in so many cases forces Sartain and Grossman to skip enough material for an entire miniseries on their subject, even though the filmmakers take time to highlight the famous suit against Sav-On Drugstore, the membership policies of the Friars Club, and Allred's work with the family of Nicole Brown Simpson.
The lawyer exudes comfort with her own level of fame -- a running gag is that people on the street frequently mistake a gracious Allred for retired Senator Barbara Boxer.
Given the film's prominent coverage of Allred's representation of the alleged victims of Bill Cosby and Donald Trump, the absence of comment about her lengthy history of taking on clients in suits against celebrities was a missed opportunity for more richness and depth.
The strongest and most satisfying thread in "Seeing Allred," however, traces the tireless and significant contributions made by Allred to the modern legal history of feminism, civil rights, and the dismantling of workplace-based inequities.
Allred, who we learn came to the law following a gig as a high school teacher, dispels any number of constructed myths framing her primarily as a fame-seeking ambulance-chaser. Sartain and Grossman convincingly upend that narrative by showing that Allred's relentless use of the television camera has given voice to the unheard and spoken truth to power inside a system designed to marginalize and silence.