​Silents with live music return to MSUM
Cinema | July 1st, 2015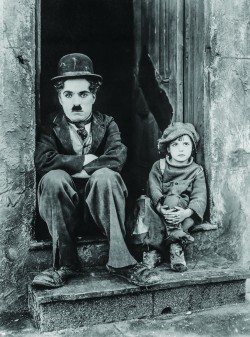 The annual MSUM Summer Cinema series returns this month with weekly Monday night screenings throughout July of classic silent movies with live musical accompaniment on the historic Wurlitzer theatre pipe organ in Weld Hall's auditorium. Each film will also be introduced by an area film specialist. Showtimes are at 7:30 p.m. and admission is $4 per night. Pre-show organ music performed by Red River Chapter members of the American Theatre Organ Society starts at 7:15 p.m. and doors open at 7:00 p.m.
"The Kid" • July 6
This year's series begins Monday, July 6, with the first feature-length film made by screen legend Charlie Chaplin. This English music hall comic suddenly shot to stardom just over a century ago at Mack Sennett's Keystone movie studio. He soon had his own studio and co-founded United Artists with director D. W. Griffith and fellow superstars Mary Pickford and Douglas Fairbanks. Chaplin wrote, produced, directed and starred in "The Kid" (1921), a comedy-drama that also made a star out of child actor Jackie Coogan (later a 1960s TV icon as Uncle Fester in "The Addams Family"). Lance Johnson will provide the music for "The Kid," and Larry Schwartz will introduce the program.
Chaplin devised much of "The Kid" from memories of his own poverty-stricken childhood, and he used his film to draw attention to social issues about child welfare as much as entertain his audiences. Younger viewers may recognize the basic plot elements that were copied closely by Adam Sandler in his film "Big Daddy." Chaplin's familiar "Little Tramp" character discovers an abandoned baby. After first trying to get rid of it, he decides to raise the boy, grows to love him and then must deal with meddling social workers who consider him an unfit father and want to seize the child for an orphanage. A parallel plot recounts the unwed mother's decision to give up her baby and her later attempt to locate him.
"Metropolis" • July 13
The July 13 screening will feature German director Fritz Lang's groundbreaking sci-fi socio-political allegory "Metropolis" (1927), introduced by Matt Olien and scored by Dave Knudtson. "Metropolis" depicts a massive city of the future in which the wealthy elite live at the top of skyscrapers while the workers live at ground level and toil deep underground. The ruler's son decides to visit the world of the workers and finds a revolutionary movement brewing, kept in check by a charismatic woman named Maria. Meanwhile a mad scientist with a grudge against the ruler is constructing a robot duplicate of Maria in order to incite the workers to destroy the city. The film's expressionistic set design has influenced numerous later filmmakers, notably Tim Burton, in his 1989 "Batman," and others.
"Heart of the Hills" • July 20
On July 20, America's Sweetheart and pioneer producer Mary Pickford stars in "Heart of the Hills" (1919) as a spunky adolescent mountain girl hoping to avenge the murder of her father, while dealing with the urges of young love, her lack of formal education, and city investors trying to defraud the locals out of land rights, among other things. There's plenty of action, violence, romance and comedy before the inevitable happy ending. Dave Knudtson will play the organ and Emily Beck will introduce the movie.
Comedy Shorts • July 27
The final night of the series, July 27, will feature four short comedies, introduced by Janet Haak and accompanied on the theatre organ by Lance Johnson. Charlie Chaplin plays a wealthy drunk trying to get to bed in "One AM" (1916), a tour-de-force, nearly one-man show that recreates one of his old stage routines. Buster Keaton is mistaken for an escaped criminal in "The Goat" (1921), one of his most inventive shorts. Charley Chase is at his best in "Bromo and Juliet" (1926), reluctantly agreeing to play Romeo in his fiancée's amateur play but sidetracked when he has to pick up her drunken father on the way. Oliver Hardy is also in the cast. "Liberty" (1929) is prime Laurel and Hardy, here playing escaped convicts spending the film's first half trying to change pants and the second half trying to get off a skyscraper under construction. After this last showing audience members can enjoy free ice cream treats in the lobby.
IF YOU GO:
MSUM's Summer Cinema Series
Every Monday in July, 7:30 p.m. Weld Hall, MSUM
$4
Contact: Ray Rea at rea@mnstate.edu