​Tarantino and His Wrecking Crew Catch the End of a Golden Age in 'Once Upon a Time in Hollywood'
by Greg Carlson | .(JavaScript must be enabled to view this email address) | Cinema | July 31st, 2019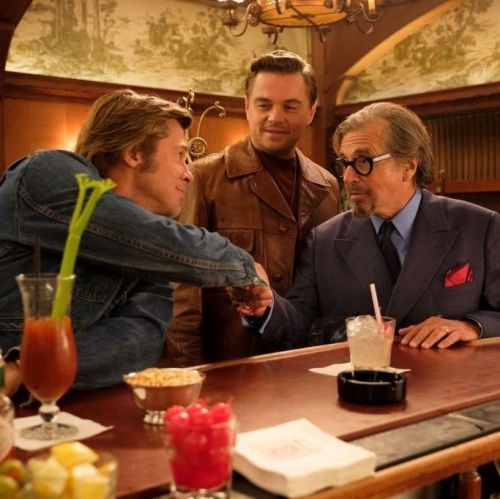 For superstar auteur Quentin Tarantino, there's no business like show business -- never has been for the whole arc of his career -- and "Once Upon a Time in Hollywood" doubles down on everything that fanboy and fangirl (mostly fanboy) disciples have studied with religious devotion since the days of "Reservoir Dogs." A nonstop pastiche of pop culture references both iconic and obscure, the new feature embraces revisionism and fantasy in its interpretation of events surrounding the gruesome murders of Sharon Tate and friends by members of the Charles Manson Family in August of 1969.
Tate is played by Margot Robbie, and our knowledge of her senseless and tragic demise hangs like a dark cloud over the otherwise freewheeling portrayal of the "more than a friend, less than a wife" bromance between Leonardo DiCaprio's washed-up, alcoholic TV actor Rick Dalton and his Hal Needham-inspired driver/stuntman Cliff Booth (Brad Pitt). Los Angeles plays itself as an equally important character, and appreciators of meticulous period detail and history by suggestion will devour the Boss Radio/KHJ promo spots interspersed with expectedly perfect soundtrack selections like Los Bravos' "Bring a Little Lovin'" and Neil Diamond's "Brother Love's Travelling Salvation Show."
Cinematically, Tarantino does so many things so well it can be easy to forget that his magic armor has been deflecting all manner of criticism for years. His Wikipedia biography contains an entire section labeled "controversies," selecting a quintet of issues that includes his problematic relationship to the N-word and his irresponsible mistreatment of Uma Thurman during the filming of a dangerous driving scene while making "Kill Bill." Additionally, his proximity to Harvey Weinstein and his 2003 defense of Roman Polanski have been haunting a number of the "Once Upon a Time in Hollywood" conversations.
Arguably, QT tightened his own noose by grossly underwriting Tate and depriving her of nearly any scene in which the audience is allowed inside her head. At Cannes, Farah Nayeri was the first person to call out the lopsidedness of Robbie's onscreen agency in comparison to what DiCaprio and Pitt were given to play. Tarantino was predictably unapologetic. Rich Juzwiak's thoughtful and thorough case against the filmmaker's "shittiness toward women" is a must-read that lays out a strong case, adding another chapter to the continuing discussion of gender in the director's films.
It will surprise nobody that Tarantino's contract granted him final cut or that the length of "Once Upon a Time in Hollywood" is 161 minutes. The pacing, rhythm, and crosscutting all aid in evoking the episodic television milieu inhabited by Dalton and Booth. And the leisurely running time carves out plenty of room for the actors to stretch out (Booth's meal preparation ritual for scene-stealing pet pooch Brandy is as much fun as Dalton's heart-to-heart with precocious co-star Julia Butters, who manages to make off with a scene or two herself). It's easy to read Tarantino's own artistic anxieties concerning relevance and vitality into the movie's thematic exploration of faded and fading glory, but the film can certainly be properly pondered without any biographical inferences.
Except for the foot fetishism.