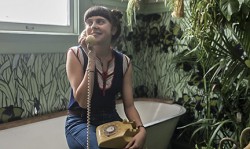 As soon as 15-year-old Minnie Goetze announces "I had sex today" in Marielle Heller's blistering adaptation of Phoebe Gloeckner's hybrid prose/graphic novel "The Diary of a Teenage Girl," one can sense all sorts of red alerts and red flags being raised by the (understandably) cautious and concerned.
Heller, best known as an actor but now making a supremely confident debut as writer-director, knows this material: she previously collaborated on a successful stage version of the story, playing Minnie – and earning the trust of Gloeckner. In the film, Minnie is brought to vivid life by Bel Powley in an anchoring, heartbreaking performance that ranks among the year's finest.
The movie is so aligned with its heroine's worldview, nearly every adult, including Minnie's troubled, narcissistic mom Charlotte (Kristen Wiig), appears to operate in some kind of responsibility-free parallel universe.
Heller's frankness, combined with the lurid subject matter, will remind some viewers of any number of stories examining the damage of age-inappropriate lust, but the sensibility of female identification is closer to "An Education" than "Lolita."
While the contemporary, real-world impulse is so often to scrutinize and shame, Heller forges her own path. As Rebecca Keegan notes, "It's hard to overstate what a radical idea it is to show a teenage girl enjoying sex in a movie" (especially without being utterly destroyed or scarred for life as a consequence of that pleasure).
While Heller scales back some of the darkest, grimmest content from Gloeckner's book, the primary romantic relationship concerns the young Minnie and her mother's opportunistic, predatory boyfriend Monroe (Alexander Skarsgard), a man old enough to be Minnie's father. While the ongoing behavior between the two is statutory rape, Minnie's point of view is the one honored by the filmmaker, lining the film with a level of complexity that recognizes a problematic double standard when compared to bildungsroman featuring the sexual awakenings and initiations of similarly aged male protagonists.
A sizable number of critics have argued that Heller deliberately withholds judgment, allowing viewers to make determinations about the agency of a young person surrounded by a culture of permissiveness. While the 1976 San Francisco setting arguably shields particular strains of critique via the period mythology of the city's most liberal impulses, the director unfailingly renders Minnie as subject and not object. Manohla Dargis writes, "…it's important that the one time you see Minnie fully naked is when she's alone with her body and thoughts in her bedroom, gazing into a mirror," going on to point out that Heller does not light or frame Minnie "for the viewer's erotic contemplation."
Minnie is an aspiring artist, and one of the greatest pleasures in "The Diary of a Teenage Girl" is the integration of lovely animated imagery that sometimes takes over the entire screen and sometimes shares space with the tangible objects photographed by Brandon Trost. Created by Sara Gunnarsdottir, the animation brings to life the contents of Minnie's sketchbook and imagination, both of which draw inspiration from the distinctive illustrations of underground comics legend Aline Kominsky. The spirit of Kominsky inhabits the movie as a crucial symbol of stability and comfort to Minnie, and by extension, the audience. Whenever Kominsky shows up, it feels like everything will be OK.