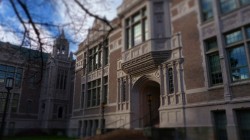 Director Kirby Dick and producer Amy Ziering follow their Oscar-nominated "The Invisible War" – a harrowing exposé of the United States military's woeful record regarding the issue of sexual assault – with another film addressing the same massive injustice done to victims of rape on college campuses.
"The Hunting Ground" applies the filmmaking team's familiar stylistic flourishes, from eye-catching graphic design disseminating grim statistics to a blend of archival and new footage seamlessly combined in a concerted effort to take a stand and make a point. The result is the gut-wrenching thesis that many colleges foster and support a culture in which rapists can repeatedly commit crimes without consequence.
While not every critic has embraced Dick's blunt storytelling technique, which has more than once been unfavorably compared to "20/20," "Dateline" and other television newsmagazine shows, the director has successfully carved out a place for himself as one of the premier advocacy documentarians working in non-fiction features today. "The Hunting Ground" may not qualify as objective journalism, but given the systemic failures underlying the horrific realities of campus rape, the movie might just help bring about at least some overdue and urgent reform. Dick and Ziering raise more questions than a single movie can hope to answer, and some viewers will yearn for a more nuanced discussion of many of the film's topics. In the sense that the movie will start conversations on campuses and off, however, "The Hunting Ground" accomplishes its grassroots, "take action" goals.
Annie E. Clark and Andrea Pino – each assaulted while students at the University of North Carolina at Chapel Hill – emerge as key agents of change in the movie, and their presence, along with several others who were raped as students, is possibly the film's greatest strength, especially since credible personal testimony always tops a torrent of statistical slides. Clark and Pino have used the legal parameters of the Clery Act and Title IX, the federal law that states in part: "No person in the United States shall, on the basis of sex, be excluded from participation in, be denied the benefits of, or be subjected to discrimination under any education program or activity receiving federal financial assistance" to assist victims filing complaints against their institutions of higher learning.
In a series of explosive sequences, Dick and Ziering train their sights on America's obsession with collegiate athletics and the fraternity "industry," making a compelling case that universities are big businesses that exist to protect their financial interests above all else, including the safety of their own students. The story of Erica Kinsman, who was allegedly raped by Florida State quarterback Jameis Winston in 2012, sets up one of the movie's most sickening examples of victim-blaming and shaming. Plenty of rabid football fans are quick to paint Kinsman as a false accuser, and the only thing uglier than their misguided invective is the "No Means Yes, Yes Means Anal" chant/signage that resulted in the suspension of Yale's Delta Kappa Epsilon fraternity in 2011 and the Texas Tech chapter of Phi Delta Theta in 2014.
"The Hunting Ground" premiered at the Sundance Film Festival and will be available theatrically and on-demand in the upcoming months.