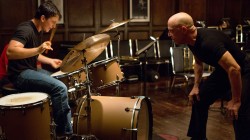 Late in writer-director Damien Chazelle's sophomore feature "Whiplash," monstrous music teacher Terence Fletcher states, "There are no two words in the English language more harmful than good job." By this point, the viewer will have formed a few troubled thoughts about Fletcher, who berates and belittles his students in much the same way R. Lee Ermey's Parris Island drill instructor Gunnery Sergeant Hartman shouts down his U.S. Marine Corps recruits in "Full Metal Jacket." As Fletcher, J.K. Simmons realizes he has the role of his career, and the veteran actor brings complexity to every scene in which he appears.
Ostensibly, the protagonist of "Whiplash" is jazz drummer Andrew Neiman (Miles Teller), and award season chatter regarding Simmons identifies his work in the supporting category. Make no mistake, though, Teller and Simmons share the screen as two complementary leading men duking it out in a corrosive mentor/apprentice relationship that wonders whether cruelty and sadism might legitimately reveal a great artist. While Fletcher spews a torrent of ugly homophobic and misogynistic slurs at Andrew and the other members of the competitive (and fictional) Shaffer Conservatory of Music in Manhattan, Chazelle sets the table for the movie's bloodthirsty final movement, a relentlessly entertaining series of psychologically intense reversals.
Buddy Rich-hater Richard Brody's curmudgeonly essay "Getting Jazz Right in the Movies" blasts "Whiplash" for having "no music in its soul" and "no music in its images." The critic supports the former assertion by suggesting that Neiman's obsessive, competitive drive dominates the narrative while Chazelle offers "no sense of a wide-ranging appreciation of jazz history." The latter claim is accompanied by Brody's unsupported and miscalculated jab that "There are ways of filming music that are themselves musical, that conjure a musical feeling above and beyond what's on the soundtrack, but Chazelle's images are nothing of the kind."
For those who have seen Chazelle's 2009 feature debut "Guy and Madeline on a Park Bench," the methodological intersection of jazz and filmmaking in "Whiplash" feels like stylistic second nature for the young director. Chazelle constructs his movie with the rhythms, movements, tempo changes and solos of a great piece of music. Shot in just 19 days, "Whiplash" capitalizes on Chazelle's relationship to sound, and the sharp work of editor Tom Cross, cinematographer Sharone Meir and production designer Melanie Jones mark the contributions of indispensable sidemen and sidewomen.
Although Chazelle's intense focus on the bloody bond between Fletcher and Neiman takes up the largest share of "Whiplash," the filmmaker does extend Andrew's universe by including both a romance subplot and several scenes in which Andrew interacts with his father Jim (Paul Reiser). Film critic Dana Stevens has already made the claim that Andrew's fragile flirtation with movie theatre concessionist Nicole (Melissa Benoist) is unnecessary because the film's "love story is already there in the form of Fletcher and Andrew's complex, enmeshed, fiercely adversarial relationship." I won't argue with that, although Benoist is terrific and makes the most of her limited screen time.
In fact, despite the firepower that juices every scene in which Simmons appears, Benoist and Teller end up sharing one of the film's most wrenching moments, an agonizing split that echoes the dazzling interplay of the opening scene of "The Social Network." Andrew's foolish heart races hard at the thought of becoming a master and a legend; the girl never has a chance. As film critic Anthony Lane puts it, Andrew "can't both love and drum." Chazelle uses this scene and several others to raise questions about the costs of performing at the elite level and the toll that ambition can exact on one's humanity.