​The Polka King
by Greg Carlson | .(JavaScript must be enabled to view this email address) | Cinema | January 26th, 2018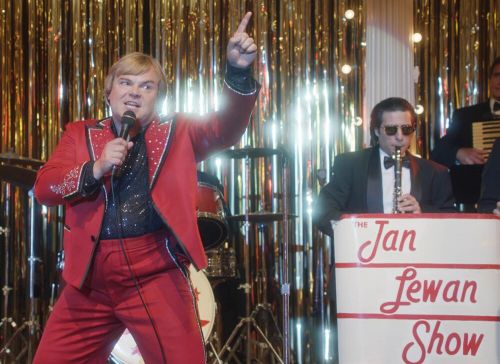 Making its way to Netflix a year after debuting at the 2017 Sundance Film Festival, "The Polka King" is the fictionalized version of Ponzi schemer Jan Lewan's jaw-dropping journey from bandstand to prison cell. Played with his usual antic panache by Jack Black as an optimistic entrepreneur with mostly benevolent intentions, Lewan is an American dreamer by way of Poland, in way over his head.
Filmmaker Maya Forbes, whose semi-autobiographical first feature Infinitely Polar Bear earned some well-deserved looks in 2014, continues her collaboration with spouse Wallace Wolodarsky, who served as co-writer of "The Polka King."
Basing their dramatization on John Mikulak and Joshua von Brown's stranger-than-fiction 2009 documentary "The Man Who Would Be Polka King" (also currently available on Netflix instant watch), Forbes and Wolodarsky bend toward the absurdly comic details of Lewan's self-made empire, projecting with care the minutiae of the man's relentlessly cultivated "brand." From the jaunty tunes -- lit up by the magic fingers of Jason Schwartzman's clarinetist Mickey Pizzazz -- to the Polish knick-knacks sold at Levan's gift shop, one expects a certain level of humor at the expense of the small town and the small time.
Happily, however, Forbes manages to guide her performers to big, bold interpretations that skip mean-spirited ridicule for a more sympathetic look. Black is always center stage, but terrific assists from Schwartzman, Jenny Slate as Lewan's beauty pageant spouse, and Jacki Weaver as Lewan's skeptical mother-in-law, substantially increase the appeal of the film.
Along with a parade of elderly polka enthusiasts suckered by Lewan's charisma into parting with huge retirement funds, nest eggs, and other savings, the assortment of wacky oddballs extends to a nice turn by J.B. Smoove as an overworked investigator sniffing around Lewan's fragile "promissory note" house of cards.
Forbes maintains a tone of positivity that at times leads one to wonder how "The Polka King" might have played if some of Lewan's tragedies, including the bloody razor attack he suffered while in prison, had been handled more candidly. For example, the tour bus crash that seriously injured Lewan's son remains in the movie as a plot marker, but the von Brown and Mikulak doc includes a tearful interview with the musician behind the wheel, revealing that two members of the band died in the wreck -- and as improbable as it sounds, that Lewan claimed his financial records were destroyed in the same road accident.
The premise of a Grammy-nominated bandleader convicted of fraud works favorably for the filmmakers and for Black, who has excelled at playing imposters, phonies, yarn-spinners and/or truth-stretchers both imaginary (Dewey Finn in School of Rock, Malcolm in Margot at the Wedding) and based on real people (Bernie Tiede in Bernie, R. L. Stine in Goosebumps).
At first, Lewan's fractured English -- "You are such best audience!" -- seems like a put-on, but footage of the real Lewan confirms the interpretation. Extrovert Lewan's irrepressible "where's the party?" attitude is right in Black's wheelhouse, lending credibility to the otherwise farfetched -- Lewan introducing his tourists to Lech Walesa doesn't make the cut, but an audience with the pope most certainly does.