'The Turning:' Sigismondi Struggles with Henry James Oft-Told Tale
by Greg Carlson | .(JavaScript must be enabled to view this email address) | Cinema | February 5th, 2020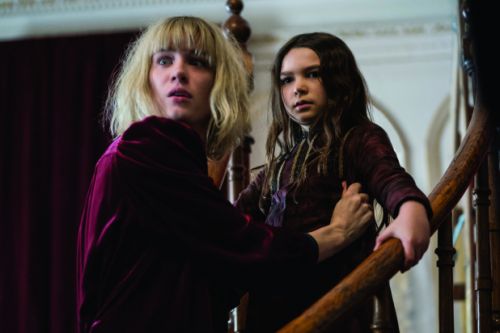 The telling one-two punch of a January release date dump and a rocky production history spells serious trouble for Floria Sigismondi's "The Turning," a supernatural horror based on Henry James' timeless "The Turn of the Screw." A one-time "passion project" championed by no less a light than Steven Spielberg, the original incarnation of the film was developed for Spanish director Juan Carlos Fresnadillo before a Scott Z. Burns script rewrite failed to convince Amblin Entertainment to move ahead. Now, we can only imagine what Alfre Woodard and Rose Leslie might have brought to the table. Instead, veteran commercial and music video director Sigismondi limps through a murky ghost story that is dead on arrival.
Sigismondi probably deserves less blame than screenwriting twins Carey W. and Chad Hayes, who rather inexplicably update the novella's original 1898 period to the weeks following the suicide of Kurt Cobain. The choice to set the events of the film in 1994 has little to no bearing on any aspect of the story, but the soundtrack conveys a grunge-era sensibility without using any Nirvana. The basic contours of James' popular tale remain: a governess in charge of two children at a stately country house begins to see apparitions of a man and woman who may or may not be previous employees of the estate. Macabre menace ensues.
Mackenzie Davis, who was given so much more to work with in Sophia Takal's "Always Shine," does what she can with an empty and underwritten role. She can offer only the slightest inkling why her Kate Mandell would choose to leave a beloved teaching gig for a live-in position working with a single pupil (Brooklynn Prince, who will make you long for "The Florida Project"). Beyond Kate's steely resolve and stubborn refusal to give up even when common sense would send any reasonable person packing, there is very little to hold the viewer's interest. Two hallmarks of "The Turn of the Screw" -- the question of the protagonist's own sanity and a strange air of sexual repression -- are both so thoroughly mishandled by the filmmakers that Davis drowns in the murky waters.
Finn Wolfhard plays the teenage Miles as a moody and manipulative creep. Even before we meet him in person, Kate recoils at his nasty handiwork: a multitude of pins piercing the breasts of a dressmaker's dummy. Once expelled from boarding school, Miles follows a common set of forbidden and/or inappropriate relationship tropes, alternating between traumatized kid and knowing predator who tests the limits of his minder's tolerance. Sigismondi seems uncertain how to resolve the question of Miles' harassment of Kate, and the entire subplot evaporates when other more pressing bump-in-the-night set pieces take priority in the final act.
Like the oft-filmed "Little Women," there is no shortage of continuing interest in "The Turn of the Screw." While Jack Clayton's 1961 "The Innocents' ' continues to hold the title of most cinematically satisfying adaptation, Alejandro Amenabar's 2001 thematic sibling "The Others" -- while an original work -- is indebted to James. At least a half-dozen other theatrical features and more than a half-dozen television versions have been made. The upcoming second season of Netflix's "The Haunting of Hill House'' will be called "The Haunting of Bly Manor," and director Mike Flanagan is loosely basing that series on "The Turn of the Screw." Chances are good it will be superior to "The Turning."