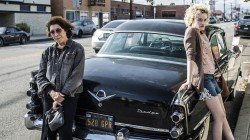 In one sense, Paul Weitz's "Grandma" is to Lily Tomlin what Wes Anderson's "Rushmore" was to Bill Murray: a confirmation of the value, power and wonders of an underutilized – and sometimes misused – screen treasure. While we can hope that Weitz's film will open for Tomlin some of the same kinds of creative opportunities "Rushmore" presented to Murray, the current document will have to suffice as a late(r) career tour de force. As the acid-tongued lesbian poet Elle Reid, Tomlin unleashes a torrent of perfectly timed comic barbs, fully realizing a woman whose outward no-bullshit, no-prisoners attitude illuminates her internal frustrations, regrets and doubts.
Weitz's premise, that 18-year-old Sage (Julia Garner) turns to grandmother Elle for help in a race against the clock to fund an impending abortion, is as incredulous and farfetched as the film's characterizations and interactions are immersive. We are asked to believe that Elle, a 70-something of some comfort and means, has impulsively shredded her credit cards, leaving her temporarily strapped for cash. Elle has also just broken up with Olivia (Judy Greer), their relationship presumably complicated by Elle's continuing grief over the death of her longtime partner.
"Grandma" partially unfolds with a structure akin to Jim Jarmusch's "Broken Flowers," as Elle, hoping to put together some money, pays visits to a series of acquaintances. While all of these interactions hum with the unmistakable wit and intelligence of Tomlin's comedic chops, Weitz folds in moments of melancholy and self-reflection, most notably in an exchange between Elle and Karl (Sam Elliott), a man still smarting from the pain caused by the dissolution of their relationship decades ago. The scene between Elliott and Tomlin is worth the price of admission: it is a sharply realized reunion a little sweet and plenty bitter.
Like "Obvious Child," "Grandma" announces its pro-choice point of view early and often, but as Scott Foundas wrote, the film is, thematically speaking, "about choice in both the specific and the abstract – about the choices we make, for good and for ill, and how we come to feel about them through the prism of time." It is fair to argue, however, that Weitz's focus on Elle partially obscures the potential range of emotions and feelings experienced by Sage as the two make their way toward the latter's appointment to terminate her pregnancy. Even so, few popular movies situate abortion outside the common narrative binary that revolves around the implications of continuing/not continuing a character's pregnancy.
Weitz builds into the script the outward differences among women representing three generations – a reluctant stop at the office of Elle's daughter and Sage's mother Judy, played by Marcia Gay Harden, deepens our knowledge of the characters through the tense dynamics of their interpersonal relationships. Despite their conflicts, Elle, Judy and Sage clearly care about one another. The victory lap, however, belongs to Tomlin, who has indicated in interviews the similarities and parallels between herself and the character she plays. Mark Olsen notes in his Los Angeles Times article that Tomlin as Elle "wears her own clothes and even drives her own car, a 1955 Dodge Royal Lancer she has owned since 1975." A vehicle like that boasts an awful lot of personality, but it pales next to Tomlin.