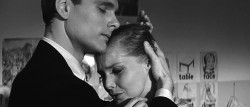 With HD video projector prices now lower than many large-screen TVs, any movie fan with a room that can be darkened should jump at the chance to watch widescreen movies filling an entire wall instead of shrunken down to fit a TV monitor with a "letterboxed" image. Favorites can spring to life on a big screen, but benefiting even more are movies that might otherwise seem routine time-killers on a regular TV set.
Here are some recent Blu-ray releases of films designed for the wide CinemaScope and Panavision formats: two from the 1950s in color and stereo surround sound, two from the 1960s in black-and-white mono. Each becomes substantially more effective, immersive and involving when projected in high-definition as large as possible.
"The Eddy Duchin Story" (1956) is a classic Hollywood heart-warming tearjerker of a man's struggle for success tempered by repeated tragedy. Its lush blend of biography, romance, family relationships and pop music touched a public nerve that made it one of the highest-grossing films of the year.
Tyrone Power portrays the popular but ill-fated piano stylist/band leader who had just died of leukemia five years earlier at age 41. Kim Novak co-stars as a wealthy socialite who takes an immediate interest in the ambitious young musician. The film fictionalizes Duchin's life, never worrying about strict accuracy in recreating the recent past, but remains a strong portrait of human reaction to adversity as well as a vivid, colorful romanticizing of New York City from the 1920s through the early 1950s.
The film makes expert use of rich Technicolor hues and the widescreen, as well as stereophonic recording of its soundtrack. In fact, in addition to its script, veteran Harry Stradling's cinematography was nominated for an Oscar, as were the music score and sound recording.
Twilight Time's Blu-ray looks and sounds mostly beautiful: occasionally, a bit of audio muddiness obscures the clarity of higher frequencies. Bonuses include an illustrated pamphlet, an isolated music/effects track and two HD trailers.
"THE EDDY DUCHIN STORY" on Blu-ray – Movie: B+ / Video: A / Audio: A- / Extras: C
Another musical biography, "Pete Kelly's Blues" (1955) is set solely in 1927 and is about entirely fictional characters. Jack Webb, famous for the TV show "Dragnet," produces, directs and also stars as the title character. His acting and directing are adequate, but the story of a struggling jazz band's involvement with prohibition-era mobsters might have been more effective in the hands of others. The rest of the star-studded cast is very strong, featuring North Dakota's own Peggy Lee as an alcoholic singer, Janet Leigh as the sassy love interest, Edmond O'Brien as the ruthless gangster, Andy Devine against type as a tough detective, Lee Marvin also against type as a jaded clarinetist, Ella Fitzgerald as another blues singer and even Jayne Mansfield in a bit.
The film earned a supporting-actress Oscar nomination for Peggy Lee, and a Grammy nomination for its soundtrack album. Hal Rosson's rich color cinematography exploits the widescreen effectively, and the stereo sound helps bring out the classic jazz music.
Warner Archives' Blu-ray looks excellent overall and the 5.1 DTS audio is very strong. Bonus features are two trailers and two entertaining 1955 shorts, all in HD.
"PETE KELLY'S BLUES" on Blu-ray – Movie: B / Video: A / Audio: A / Extras: C
In "The Girl Hunters" (1963), pulp novelist Mickey Spillane himself stars as his rough-edged private-eye protagonist Mike Hammer in an entertaining crime thriller. Hammer has retired into an alcoholic binge after the disappearance and putative murder of his beloved secretary Velda. When a dying smuggler insists on speaking only to him, Hammer's estranged former partner reluctantly brings him in, and what the smuggler tells him immediately causes Hammer to sober up. Then a federal agent (Lloyd Nolan) becomes involved, and Hammer regularly starts to see the seductive widow (Shirley Eaton) of a U.S. senator who had been assassinated by the same gun that killed the smuggler.
Throughout the mystery, the film is almost gleefully loaded with plenty of non-PC violence and sexual innuendoes, especially for its pre-ratings era. Spillane does a fine job playing his antihero on screen, with good support from Eaton and Nolan. The black-and-white cinematography is very effective, especially its frequent use of close-ups on the wide screen.
Picture quality on Scorpion's Blu-ray is very strong, as is the audio. Bonus features include a commentary, two interviews and the trailer, all in standard definition.
"THE GIRL HUNTERS" on Blu-ray – Movie: B+ / Video: A / Audio: A / Extras: B
Otto Preminger's stylish mystery-thriller, "Bunny Lake Is Missing" (1965), opens with a young American couple, Stephen and Ann Lake (Kier Dullea and Carol Lynley), moving into a new London apartment. Ann is in a rush to leave her little girl at a daycare center, but when she returns the child has mysteriously vanished and no one at the facility even remembers seeing her. The situation gets progressively stranger as a police inspector (Lawrence Olivier) begins to investigate. Soon the police start to wonder whether the missing girl even exists. The initial mystery eventually develops into a psycho-thriller as character relationships and past events gradually come to light.
The cast is outstanding, with Lynley giving one of her best performances, and with strong support from such seasoned British legends as Olivier, Noël Coward, Martita Hunt and others. Action is intensified by the almost constantly moving camera, with its stark, crisp, black-and-white imagery densely packed across the widescreen frame.
Picture quality is exemplary on Twilight Time's Blu-ray, with a mostly very sharp image and rich black-and-white contrast. Audio is also very good. Bonuses include an illustrated pamphlet, audio commentary, isolated music score and three trailers, all in HD.
"BUNNY LAKE IS MISSING" on Blu-ray — Movie: A- / Video: A / Audio: A / Extras: B