'Welcome to Leith' Q&A
Cinema | April 1st, 2015

Film documents a white supremacist's attempt to take over a small North Dakota town
"Welcome to Leith" is a new documentary, which premiered at the Sundance and SXSW film festivals, that shows the story of white supremacist Craig Cobb moving to Leith, N.D. and the town's subsequent attempts to removed him, in real time. Directors Michael Beach Nichols and Christopher K. Walker received incredible access to the situation as it unfolded. Cobb's most explosive moments were caught on film, including the events surrounding his arrest for terrorizing. While the events in Leith occurred without any violence, the situations were so tense that they could have easily ended differently.
The filmmakers are currently working on distribution for the film and hope to screen it in North Dakota this year. HPR saw the film at SXSW, where it received rave reviews, and caught up with Nichols for an interview.
HPR: How did you first hear of the story of Craig Cobb coming to Leith?
Michael Nichols: We first read about Craig Cobb and Leith in a NY Times article at the end of August 2013.
HPR: What made you decide to make a documentary about it?
MN: Cobb's idea was so strange and bold. Here's this guy who wants to literally take over a town, albeit democratically, but based on a set of racist ideas -- in the middle of nowhere. It was just fascinating to us and seemed like an amazing story with vast implications. Once we read about the town hall meeting with the NSM (National Socialist Movement) and the family of white supremacists (Kynan Dutton and Deborah Henderson) moving in, we knew we had to go to North Dakota.
HPR: You had a lot of access to not only the mayor, the sheriff and other community members involved, but also Cobb himself. Was he reluctant to participate?
MN: We did, we were very fortunate. Cobb was very open with us and agreed to participate quickly. We were open with him about wanting to tell the whole story, from every vantage point available to us, and quite frankly wouldn't have made the film without his participation. We have no interest in telling viewers what to think. Hopefully we captured a moment in time and people watching can draw their own conclusions.
HPR: Did you ever think that the story might end up more violent than it did? It appeared in some of the meetings and encounters to be a powder keg.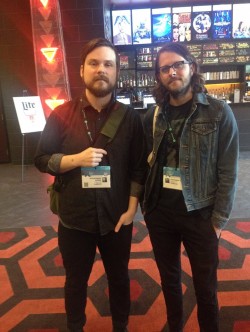 MN: Honestly, we had no idea. The ingredients for violence were certainly there. Guns, tension, isolation, panic -- the stage was set. Thankfully no one was physically hurt.
HPR: What do you think would've happened had people not stood up to Cobb as they did from the beginning? What if they just shrugged their hands and said it's a small town,no big deal, leave him alone?
MN: It's hard to speculate. The residents had a "doomsday" plan wherein they could dissolve the town of Leith and be absorbed into Grant County if Cobb got enough supporters to move in, so there'd no longer be a town government for him to take over. But that wasn't very appealing, because it'd mean they wouldn't really have a voice in their own governance, because of how small they were in relation to the size of the county. It's really incredible that they decided to stand up and fight back. If they hadn't, I think there was a real possibility Cobb would get the numbers he needed to take over the town, and then the "town" of Leith would either no longer exist or would be under white supremacist governance.
HPR: Do you think the story is over? Do you believe Cobb will stay quiet and not doing anything like this again?
MN: There are three lots in town that still belong to white supremacists -- Jeff Schoep, Alex Linder and Tom Metzger. So that's of some concern to Leith residents. But we personally don't think Cobb will try to establish a white enclave again. But will someone else be inspired by his actions and try to succeed somewhere else? In America, anything's possible.
HPR: What has been the reaction to the film from members of the community of Leith who have seen it?
MN: Very positive, which is a huge relief for us.
HPR: What message do you want people to most get out of the film?
MN: It's up to the viewer to take from the film what she/he will.
HPR: Will "Welcome to Leith" be shown in North Dakota?
MN: Absolutely. We're hoping to screen in Bismarck and Grant County in late spring/early summer.