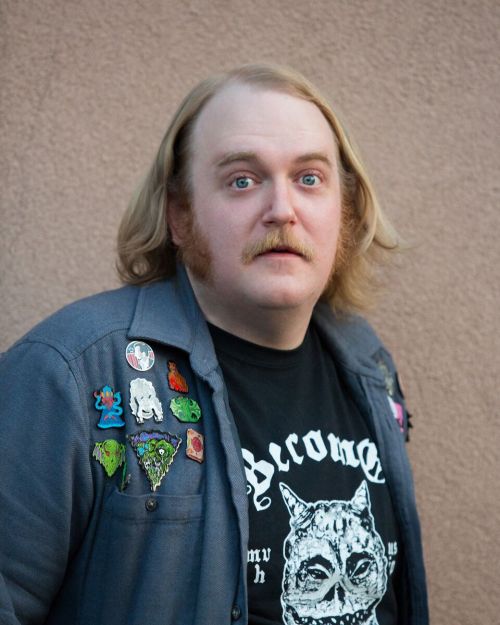 In the approximately three years I've been writing for the High Plains Reader it seems I've always circled back to comedian Adam Quesnell. First, I wrote about his farewell show before he set out from Fargo and the comedy scene that he had a hand in creating to Minneapolis. Later on, I wrote about his live recording of his second album, "Despair II: Social Justice Warlord". And now, I find myself writing about him again as he prepares for an upcoming show at the Cellar in the Front Street Taproom and stands on the cusp of moving to California.
Is it greener comedic pastures that are calling Quesnell to California?
"Comedy is certainly part of it, in terms of meeting people in the industry and trying to get a TV spot or get spots opening for rad people on the road, however, if paying my bills on stage was my goal, I would stay up here and build out my road schedule and maybe eventually I would maybe get into a good festival or get on TV," Quesnell said.
"The prime mover for this transition is the chance to finally get some traction in terms of writing for television. Basically, I want my day job to be writing-related, while I keep doing stand up as often as possible. Ultimately, I want to die a great standup, but I've got my MFA in script writing and I want to finally put that to use."
Of course, the move would signal new opportunities for his partner, Brittany Ordahl Quesnell as well.
"[She] recently completed a degree in video editing, and found she has a real talent for it."
The move to the West Coast certainly doesn't signify that Quesnell's time in Minneapolis has treated him poorly.
Far from it.
"Minneapolis has been great," Quesnell said. "I'd be lying if I said I hit all of my goals in Minneapolis, but I made lots of great friends in comedy that I will hopefully keep up with for a long time, and I got on stage every night I could for three years." He recommended Minneapolis to any comic from a small town in the Midwest who wants to improve their skills at comedy without getting wiped out by rent costs.
In December of 2017, I wrote about Quesnell's live recording/performance of his newest album, "Despair II: Social Justice Warlord", which is seeing release through Stand Up! Records. He considers it a spiritual sequel of sorts to his previous comedy album "Can We Afford This Much Despair?"
"I am very happy with how it turned out," Quesnell said. "Aside from my comedy, I'm also stoked about the record because John Bivens did the art for it, and he has worked all over the place as a comic artist: Heavy Metal Magazine, Image Comics, Valiant Comics, etc.... I have always tried to make sure that the art of my releases stands out."
He described the progression between the first and second Despair.
"As far as the material goes, I'm basically continuing my journey of trying to become a less problematic human being. I think you listen to 'Can We Afford…' and 'Despair II' back to back, you will hopefully hear that I'm a little bit further down the road to figuring out how this terrible amazing world works."
Quesnell hopes that down the road he can have a special edition of "Despair II" released.
"We, myself, and my dedicated producer Dan Schlissel, are in the very, very early stages of getting another toy off the ground," Quesnell said. "Last time we did a 3" keshi style rubber mini-figure, this time I want to do something bigger, like a 6"-9" Japanese vinyl toy that we can have artists paint for various shows and releases."
With the move taking top priority, we may not be seeing that second Despair figure for a while.
As I mentioned before, however, before Adam and Brittany depart the Midwest for sunny California, Adam has plans to perform at the Cellar under Front Street Taproom. On September 7th and 8th, he will be headlining shows there along with local comedian JD Provorse and friends.
"I'm going to be doing a mix of bits I wrote while still in Fargo and material I have written since the Despair II recording last December. I want to make sure anyone who saw me last December will be getting a very different show."
Also, if you show up for one of these shows, there will be special guests and maybe some extra special limited edition merch, so you don't want to miss out!
IF YOU GO:
Despair II: Social justice warlord
The Cellar at Front Street Taproom
September 7th and 8, 7 p.m.
Front Street Taproom, 614 Main Ave, Fargo
Tickets available at Front Street Taproom and online at www.frontstreettaproom.com