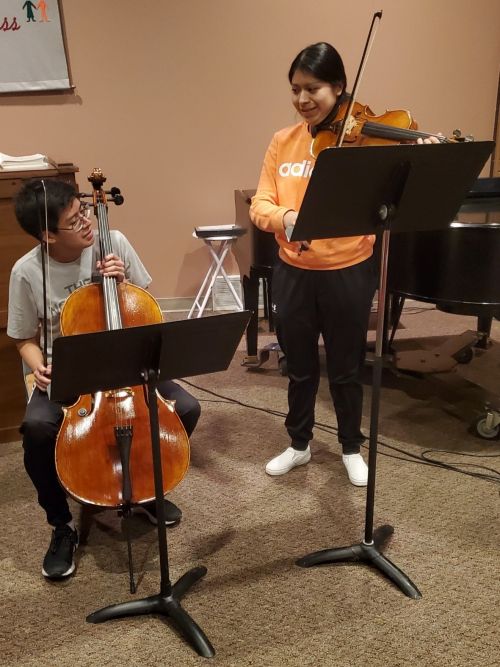 by Jean Marie Hellner
jhellner01@gmail.com
Vibrant violins, vivacious violas, charming cellos, and beguiling basses will be unleashed for students to explore and play at a Music Petting Zoo and Safari. Children of all ages can scope out their favorite stringed instrument and may even want to take one home for their very own. Everyone can hear incredible music – some that is sure to let loose your inner beast – performed by local students and professional musicians. The Community Orchestra Academy and Eckroth Music are teaming up for this jovial jamboree at the JCPenney wing of the West Acres Mall on Saturday, February 15 from 12:00-2:00 p.m.
The Community Orchestra Academy (COA) offers exciting new opportunities for students in Fargo, Moorhead, and West Fargo who aspire to play orchestral and chamber music. Through partnership with Minnesota State University Moorhead (MSUM), the COA provides education, courses, and performance opportunities in both small and large ensembles to all students in the Fargo-Moorhead-West Fargo metropolitan area.
By producing exceptional orchestral performances and offering systematic musical training, the COA supports local music students and area music programs. With more than 2600 students enrolled in the public-school orchestra programs alone, there is an urgent need to provide as many venues as possible to hone students' musical skills and tap into their inherent artistry. "We are lucky to have one of the largest string programs in the region," says Dr. Earnest Lamb, Dean of the College of Arts, Media and Communication at MSUM. "As a former middle-school orchestra teacher, I know how important it is to have additional options outside of the classroom to reinforce what students learn in school. The COA will provide such an option."
What is especially exciting about the COA is that students can start learning how to play a stringed instrument or piano as early as kindergarten. According to Fargo Public School orchestra teacher Mary Osterlund, "the sooner students start learning an instrument, the better. It is well known that music has a positive impact on a child's lifelong skills (i.e. creativity, coordination skills, cognitive development). If a child shows an interest in developing these skills, especially at an early age, he/she will benefit in many ways."
Students who become members of the COA will learn how to become accomplished and well informed orchestral musicians. They will play some of the most incredible music in the world while developing their technique and artistry. In addition, students will discover the history of the music they are playing, the lives of composers, their culture, and the musical language in which they wrote. Professional musicians and music scholars will teach students to play orchestral music while guiding them in gaining knowledge about the cultural context of the music they are performing.
Unique to the COA is chamber music. Students who play stringed instruments can play with others in quartets, trios, and duos. In addition, piano students can perform music with string players. Pianists often feel isolated from other musicians because they do not play in ensembles on a regular basis. Yet, pianists often are asked to play in chamber ensembles and to accompany soloists and ensembles. Playing in ensembles and accompanying requires a special set of skills that pianists either learn later in their training or on the job. The COA remedies this by including chamber music for string players and pianists.
The mission of the COA is to provide high-quality orchestral performances and comprehensive music education to support aspiring performers and area music programs. The COA is a registered 501(c)(3) non-profit organization, and all contributions are tax-deductible. For more information about the COA or to support this organization, contact Dr. Earnest Lamb at earnest.lamb@mnstate.edu or visit Facebook at www.facebook.com/CommunityOrchestraAcademy/
IF YOU GO:
Musical Menagerie
Saturday, February 15, 12-2pm
JC Penney Wing, West Acres Mall, Fargo