​Cold Sweat empowers community through hip-hop
by Diane Miller | .(JavaScript must be enabled to view this email address) | Music | April 28th, 2016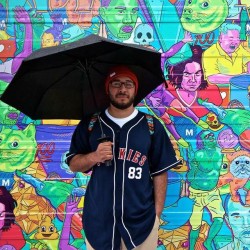 North Dakota roars for hip-hop. Some people here in rock/country-town just don't seem to know it yet. Perhaps it comes from the influence of Minneapolis, with its strong presence of underground/alternative rappers. Or maybe hip-hop's dominating presence nationwide plays an effect.
Of course, the genre has influence over our local artists, including Minot/Grand Forks-native Ryan Tetzloff, a.k.a. Cold Sweat. The rapper just released an 11-track album, "Right To Arm A Bear," which stays true to the genre of urban-influenced hip-hop but also sounds sincerely North Dakotan.
Cold Sweat has a fierce, believable rap voice that is crisp with diction and charisma. It's easy to understand each of his words, which he delivers like a fearless "animal" who's not afraid to take action and say what's on his mind, even if it leaves him at odds with anti-change, conservative-minded folk. He speaks of human struggle and political dismay yet makes it a point to take the high road and stay optimistic. He clearly has a desire to be heard, make a difference in his community and empower others like him to stand up and make a difference.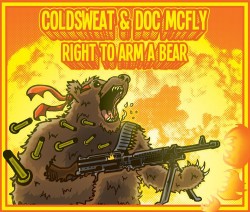 His optimistic, positive presence has been helping to bolster the rest of the rap and music community. Cold Sweat welcomes the collaboration and creation of music between musicians representing different parts of the Dakotas and different genres of music. His release show on April 29 includes performances by five other groups/artists, including Wes Eisenhauer of South Dakota hip-hop duo Soulcrate Music. Cold Sweat is a member of the ND hip-hop collective Zen People, which includes rappers Jantzonia (Jantzen Wynne) and Real Truth (Shawn Trottier). Additionally, the record is a collaborative effort that has the touch of Midwest-rap heavy hitters Kipp G, DJ Buck Nastee and Manny Phesto, along with the contribution of alternative music makers Doc McFly, Savannah Bashus and Graham Thomas.
The musicality of the record is certainly hip-hop rooted, yet it has a heavy presence of alternative/indie music. Doc McFly samples non-hip-hop artist such as Beirut and Band of Horses, and also takes some odd, yet suitable risks by sampling melodies from "Willie Wonka And The Chocolate Factory."
All the songs are slower to medium paced, which gives the album a very mellow, bob-your-head feel. It's music that's appropriate for vibing to at a party, in a car or at an intimate, yet energetic concert. The soundscapes are welcoming, thoughtful and at times serious in order to reflect the heavy subjects. However, the music and words are far from polarizing. They're instead made to provoke thoughts or emotions. Listeners will find themselves smiling, laughing and reflecting while listening to "Right To Arm A Bear," much credit to the raw talent of the artists who made the record possible.