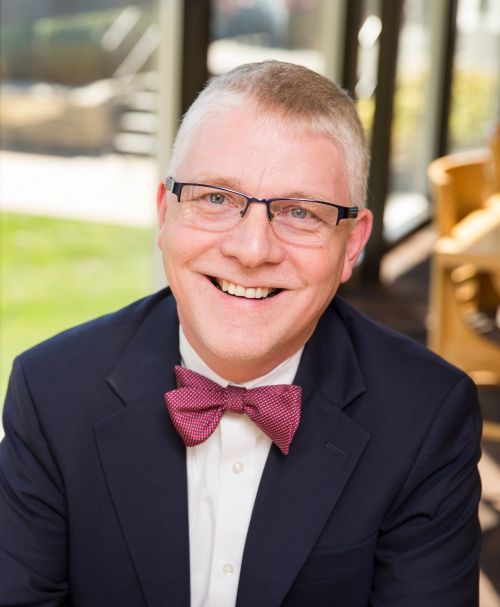 The Fargo-Moorhead Symphony Orchestra's 2019-2020 season is already underway. The first concert of the season, which showcased Gustav Holst's well-known and loved "The Planets" premiered to a sold-out audience. The first concert of the season also marked a last, however: the last concert to feature Linda Boyd as longtime executive director before her retirement. So, in a way, the second concert of the season marks a first: the first concert to feature FMSO's new executive director, Paul Hegland.
One would imagine it would be quite daunting to fill the shoes of someone who has been the executive director of FMSO for as long and successful of tenure as Boyd, but Hegland is certainly up to the task. He has not one but two degrees in music, a bachelor's degree in music education from Iowa State University and a master's in music history with an emphasis on music criticism from Northwestern University. Additionally, his resume includes working at the Ravinia Festival, the summer home of the Chicago Symphony, for eight years. After that, he took a position at Kenosha, Wisconsin's Carthage College, a sister school to Moorhead's own Concordia. He spent twenty-eight years at Carthage as Secretary of the Board of Trustees and Special Assistant to the President. If that wasn't impressive enough, Hegland also spent time reestablishing a church relations program, serving as government and professional relations liaison, and creating a policy administration office.
"When the position of Executive Director for the FMSO came across my radar screen, it rekindled a passionate love of music inside me that I hadn't realized had taken a back seat to my other responsibilities," Hegland said. He also added, "I'm very excited to come to Fargo and assume these new responsibilities. Everyone here has been incredibly warm and welcoming. My wife will be staying at our home in Kenosha, Wisconsin over the winter and into the spring to help get our house ready to put on the market, so I'll be taking quick breaks to go visit her occasionally, but that will help me to recharge and think creatively about how to make the FMSO an even better organization."
The theme for this pivotal concert is "The Sea". Naturally, it features pieces inspired by the sea, culminating with the piece "La Mer" (French for 'the sea') by Claude Debussy, who has often been called the first French impressionist composer. "The Sea has fascinated mankind, it seems, forever," said Hegland. "Composers from around the world have written about the sea." The evening will open with a performance of the "Navy Hymn", a piece from the 1880s with text written by the Reverend William Whiting and music written by the Reverend John Bacchus Dykes, both Englishmen. This piece is likely to be familiar to many people, being sung regularly as the U.S. Naval Academy in Annapolis, Maryland, included in many Christian hymnals, and sung and/or played at the funerals of U.S. Presidents Franklin D Roosevelt, John F Kennedy, Richard Nixon, Gerald Ford, and Ronald Reagan, as well as at the funerals of Walter Cronkite and Senator John McCain. This piece will feature soloist Peter Halverson, a member of Concordia's faculty.
The next piece will be the "Hebrides Overture", also known as "Fingal's Cave", composed by Felix Mendelssohn. This 1800s German composer was the grandson of the influential German Jewish philosopher Moses Mendelssohn and unfortunately had his wonderful music suppressed in Nazi Germany. This piece will feature the Fargo-Moorhead Area Senior High Youth Symphony playing alongside the FMSO. After that will follow the "Four Sea Interludes" by 20th century English composer Benjamin Britten. Originally part of Britten's opera "Peter Grimes", about a fisherman of the same name, he also published them to be performed separately on the concert stage. The last piece of the evening will, of course, be 19th-century French composer Claude Debussy's "La Mer", which contains three musical portraits of the sea and its wildly varying moods.
This concert is geared to be an exciting evening not just for the audience, but for its soloist, guest performers, and new executive director. "Everything I've learned about this area tells me that the arts are deeply loved and supported generously," Hegland said. "With three major institutions of higher education here, there is no lack of talented musicians, and those institutions have created an atmosphere of mutual support, community engagement, and overall enthusiasm for quality music at many levels. I'm excited to be joining such a great ensemble in such a wonderful metro area!"
And if we're lucky, Hegland will be gracing the Fargo-Moorhead Symphony Orchestra with his presence for many years to come.
IF YOU GO:
FM Symphony presents: La Mer
Saturday, November 9, 7:30 p.m.
Sunday, November 10, 2 p.m.
NDSU Festival Concert Hall