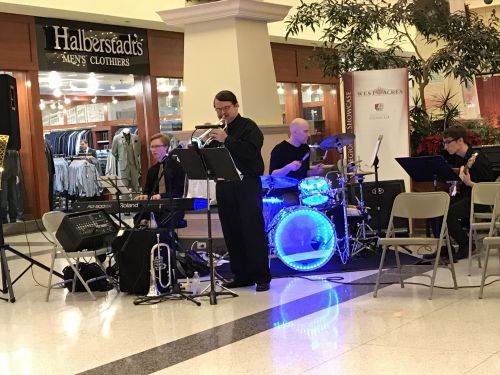 by Gerardo Gomez
gomezg@uni.edu
Drummer and Fargo native Ross Pederson always saw himself following in his father's footsteps as a musician. He currently finds himself in New York City playing with many world class professional musicians and groups, including the Grammy-award winning group The Manhattan Transfer. I had the pleasure of talking with him about his upcoming show at The Hotel Donaldson on Tuesday, February 4th, but most importantly I had the opportunity to learn his story about his passion and dedication for music and his art.
His beginnings in music started young, with his father teaching him to play trumpet and his mother teaching him piano. He found his home with the drums during his high school years attending Fargo South High School, coming home from school to play on his brother's drum set while his brother was participating in afterschool athletics. During that time, his influences were Nirvana and Jimi Hendrix., Ross's craft developed to become more than just a hobby. He grew to be very impassioned with his instrument as it became a part of his daily life.
To Ross, the decision to pursue his passion and go to the University of North Texas was a no brainer. He loved what he was doing as a musician and how he was growing as a person. At UNT, he was presented with many opportunities. One such opportunity was having professors at the school that were world-class musicians but did not tour because of their interest in student growth. In the music world, this is a rarity, especially at schools with the reputation of quality such as the one at North Texas. This presented Ross with many other opportunities such as consistently getting feedback from his professors and constantly being able to practice and perform with friends and peers who were also trying to develop their skills.
While at North Texas, Ross was the drummer for the award-winning UNT One O'Clock Jazz Band. He was also one of the original members of the highly acclaimed group, Snarky Puppy, traveling with the band to play in New Orleans. As Ross says, the band was just "Paying their Dues," essentially saying that in order for them to be taken seriously and climb the ranks, the band would have to take risks, including playing for free. After North Texas, Ross moved to New York City to do what he wanted to do, be a professional musician. He saw this as a way to get a head start on his professional networking career, and he has been there ever since.
I am an aspiring musician and Ross's story might seem as if it was easy, but it took a lot of effort and time to get to where he is now. It is a story to look up to that makes one reflect on their dedication to their work, and how much they are willing to sacrifice to get to that next level in their lives. Still, there is no reason to be worried about failing or underperforming. Unfortunately, in many musicians' minds, this is a persisting and nagging observation that enables fear to exist. So, how did Ross deal with that? How did he overcome moving from a Midwest town to Texas and then to New York City only to end up playing with some of the world's most highly respected groups? Kindness, honesty, and persistence. Don't take it from me, take it from Ross: "The less that you feel inadequate or jealous, the less likely you'll be vibed. If you do your due diligence, you do your homework, you show up on time, you're a nice dude, and play your ass up, You'll do really well"
Ross will be performing at The Hotel Donaldson on Tuesday, February 4th from 7-9pm with no cover charge. The performance will include Broadway performing bassist, Julia, Michael Marmorstein on keys, and his father John Pederson on trumpet/flugelhorn/vocals.
[Editor's note: Gerardo Gomez is currently an undergraduate student at the University of Northern Iowa studying Music Education with an Emphasis in Jazz Studies.]
IF YOU GO:
The JP Quartet
Tuesday, February 4th from 7-9pm
HoDo, 101 N Broadway, Fargo