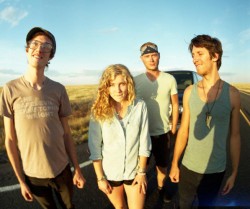 Caroline Smith on "Little Wind"
Talented singer/songwriter girl moves from little Detroit Lakes to big Minneapolis, gets a gig at the 400 Bar opening for Mason Jennings, finds all her future band-mates and… voila! There we have it – Caroline Smith's success story. Pretty sweet, eh?
Of course, I am probably missing hundreds of other details… but her story is still unfolding as I write (she's 23).
The first and only time I've ever seen Caroline Smith perform live was the High Plains Fest last summer – I remember thinking to myself, "What kind of radical superstar songwriter can get Trampled by Turtles to be her backing band for a one-time deal? I must see this." Although, technically speaking, she is not a "superstar," her performance with the Turtles was inspirational.
The rest of the day I was on a mission to meet her – we ended up on a bench outside the Soo Pass Ranch Saloon rapping in sync to Kanye West's final verse of "Gone." It's not every day you spit rap verses with one of Minneapolis' biggest female indie musicians. In our case, it was bizarrely appropriate.
Coming this Friday, Feb. 17, Caroline Smith and the Good Night Sleeps will rock the Aquarium, supporting their latest record, "Little Wind." Progressing from its folk-driven debut album, "Backyard Tent Set," "Little Wind" gets a bit more electric and experimental while still capturing Smith's songwriting roots.
Smith describes the record as "Organic … but I don't think people would see it that way because it's so different from our first record. In your first record you have your whole life's work to take from, this record was all made from within a couple of years. We were not trying to go for a certain sound. It's just what came out of us."
The record is filled with personable vibrancy. It's charged with poetic lyricism that reveals her deep insights into the world. Smith's distinctive, savory voice, inspired by life events and her undeniable openness to musicians upon musicians upon musicians, establishes the very atmosphere she breathes into her music. Let's not dismiss that she is innately gifted at playing and writing music. She's young and growing, yet she's able and willing.
"Tanktop," her opening track, reminds me of early Death Cab for Cutie. Its gentle yet awakening touch is uniquely heart-felt with lyrics that resonate: "Ain't that how it always seems to go/when something good comes it goes/oh it goes."
Track number five, "Calliope," blends sound progression, beating rhythms and dynamic singing. Smith creates escapism as she sings "When the bomb drops up that's when I begin to lose it" to "You…. I've been waiting for you."
The album is very cohesive as a whole, though one track really stands apart. The song "Denim Boy" takes an alluring melody, places it over tense and edgy chords, and is recorded to sound distant and dream-like. Along with the lyrics, her pleasant voice turns grittier and more vulnerable throughout the song, especially near the end on the lyrics "I refuse … I refuse to give up on you/to give up on you this time!"
Other key tracks include "Strong Shoulders" and "Scholarships," though virtually all the songs beautifully display Smith's talent.
Her boys, The Good Night Sleeps, are also a handsome display of talent. While Caroline Smith is the lead writer of all the songs, the guys tastefully arrange the instrumentals to build on her musical persona, leveraging her songs by adding layers of rich soundscapes and rhythmic textures.
As a woman, what's it like to lead a band of only men? "I love it. It's the best," she told me. And it seems to be working out. The band has been together for nearly five years and each year, its popularity grows.
To learn more about Caroline Smith and the Good Night Sleeps, visithttp://tiny.cc/gb502. Advance tickets for this event are available at tickets300.com for $8 or get them at the door for $10.
IF YOU GO:
WHAT: Caroline Smith and the Goodnight Sleeps w/ Sleeping in the Aviary & Riesage
WHERE: The Aquarium
WHEN: Fri., Feb. 17, 9:30 p.m.
INFO: $8 advance tickets, $10 door, 21+