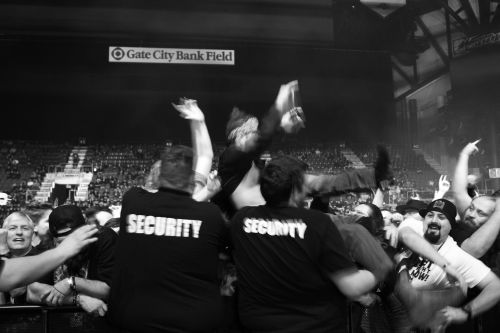 As the lights came up after Slayer's final song during their November 17 set for their FInal Campaign tour at the Fargodome, Minneapolis based photographer Paul Allen turned to me and said. "It's really sad that this is their final tour, I've spent the last 20 years going to Slayer shows. I think this means I have to grow up." A gentleman seated a row down from us shared his sentiments. As lead singer Tom Araya made his way back on stage to face the crowd he approached the mic with a heartfelt response thanking the audience for being a part of his life. I almost felt like tearing up and this was my first time and most likely last time seeing Slayer.
After being in the rock n'roll business since 1981, one can understand why the group would set out on their final campaign tour. Especially after how many nights of shredding and headbanging and spending countless nights away from home. Plus who can or would even want to imagine Slayer fading away into obscurity? It's only fitting they'd end with a blaze of glory.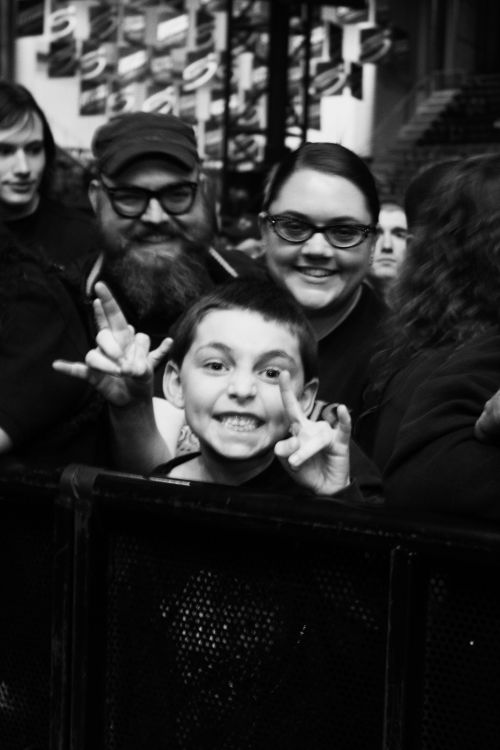 As I stood with the other press people in the atrium of the Fargodome for our briefing on press protocol, random exclamations of "SLAYER!" rang throughout the lobby, these exclamations were answered by more exclamations of "SLAYER!" One of the press guys jokingly likened the pre-show excitement to that of a dark pep rally.
The tour had a diverse lineup of metal legends. Phil Anselmo and the Illegals started the night. Anselmo was the lead singer for Pantera. A band that redefined heavy metal for a new generation of headbangers. Industrial Metal pioneers Ministry were a crowd favorite for even the most staunch metal enthusiast with their high energy set and dazzling light show mesmerized the crowd and left photographers in the press pit scrambling and even a bit disoriented.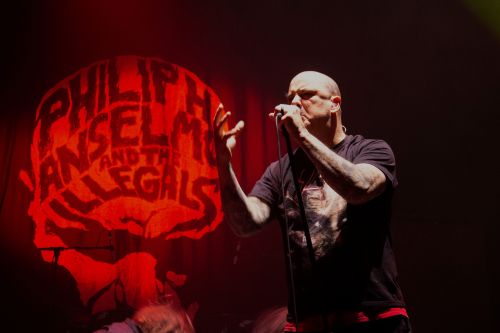 Following Ministry, Primus took the stage and delivered their trademark energetic yet eccentric set, adding some tasty jams to the mix, which definitely added a sense of variety to the night.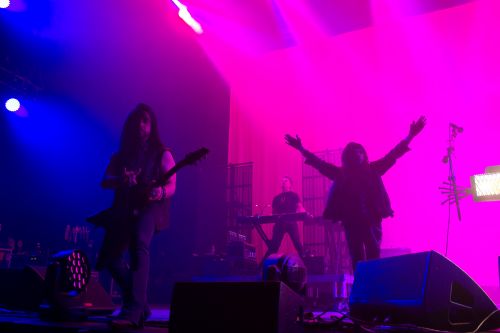 Even though this was a farewell tour, there were no eulogies or words of sentiment. What Fargo saw were legends in their genre expressing a deep-rooted respect for their fellow artists the best way they knew how--by letting it RIP. Primus' frontman Les Claypool said it best when he was hyping the crowd and expressing his enthusiasm for Slayer's set, "You can't just say Slayer because it's f*cking Slayer--it's F*CKING SLAYER!" to which the crowd answered back with a chorus of "SLAYER!" With horns held high… for those who have yet to rock and non-Bison fans, the "horns" are a hand gesture in which your index and pinky fingers are extended and your two middle fingers are suppressed by your thumb.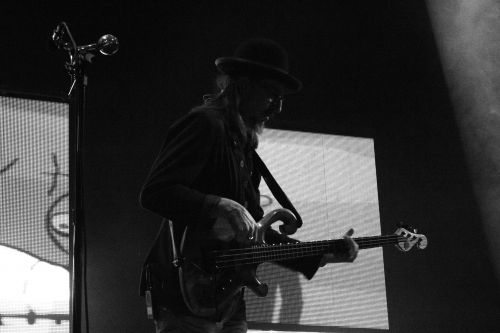 As the crowd waited for Slayer to appear, a kabuki curtain was dropped, a silhouette of four crosses were projected onto it with a red backdrop. As the crowd got more and more restless and all eyes were on the stage the crosses inverted and the curtain darkened and finally raised to an explosion of sound and seething pyrotechnics. Though crowd surfers, headbangers, and moshers alike got their kicks throughout the show, the oculus of the crowd really expanded into a circle pit during Slayer's set. Though it may have been Slayer's "Final Campaign," they showed no signs of slowing down, if anything, it looked like they were just getting started for a new chapter.