​Helping Kids rock out with Make a Riff
by John Showalter | .(JavaScript must be enabled to view this email address) | Music | June 21st, 2017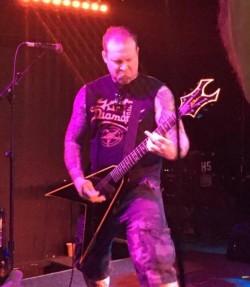 Pursuing a hobby, much less a career in music is more difficult than just picking up an instrument. Though the passion may be there, the cost of equipment and lessons can be prohibitive.
Of course this is something that Fargo-Moorhead rock star Nathan 'Natanic' Pehler, of Brutalur among other projects, realized and has decided to do something about with his Make a Riff Foundation.
Pehler, who currently resides in Moorhead, obviously took some inspiration for the name of his new charity program from the famous Make a Wish Foundation, but was also inspired by his own love of music and wordplay.
Though currently just in its fledgling stages of having a Facebook and a crowdfunding page, Pehler already has already garnered a lot of monetary support and word-of-mouth. He also harbors ambitions of eventually filing tax paperwork and setting up a website through which to process applications from prospective clients, as well as two bundles of guitars, by autumn, and has already devised a slogan, "Shred the Love." (Told you the man loves his puns.)
Once set up, the goal of the Make a Riff Foundation would be to help supply music equipment (in particular, electric guitars) and lessons for kids and adolescents who may have ambitions of picking up an axe and shredding out some riffs, but find paying for it all an obstacle.
It will be good equipment too, as Pehler said that being forced to play with cheap or shoddy equipment can often be enough to make people stop playing. The idea came to him about six months ago, after which he shared it on Facebook and, receiving a positive response, decided to pursue it with full force.
Pehler has been musically inclined ever since he was a young child. This September, he will have been playing for thirty years. "My dad was very supportive," he said. "He was always pushing me to practice and taking me to shows.
He spoke about how he was very lucky in that regard. "My dad worked hard to get me guitars and two lessons a week." Unfortunately, not every musically inclined child has that support; or even when the parents do want to make their child's dreams a reality, they lack the financial ability. Pehler noted that with the current situation in the American economy, coupled with price-gouging guitar classes, the entire endeavor can be very cost-prohibitive.
Unlike many others, Pehler is not pursuing Make a Riff for the money, but for the enjoyment. He has always loved music, especially the electric guitar, and he wants to share that passion with kids that carry that spark themselves. "A kid could be a great musician someday but not have the means to pursue it." He acknowledged that a lot of the operation will be based on trust, as he doesn't intend having a difficult application process, credit checks, or anything of the sort.
In fact, the only thing he's looking for is passion. "I'm obviously not just going to hand out guitars to everybody who asks for them, but all I'm looking for is a reason why." The crux of any application Pehler devises for Make a Riff would be asking why someone wants to pursue music. As long as the passion is there, that's good enough for him.
Those interested in helping get the program off the ground can look up "Make a Riff" on Facebook for news and information about contributing. Otherwise, be sure to catch him shredding guitar with Brutalur or any of his other musical projects when they perform around town, if you enjoy having your face melted. Either way you're helping the rock live on.