ND Music Award Buzz
by Kayla Culver | .(JavaScript must be enabled to view this email address) | Music | January 21st, 2015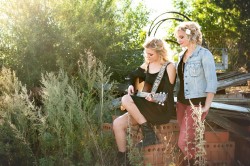 North Dakota is celebrating its diverse music scene with its first music award show on Thursday, Feb. 19 hosted by URL Radio. The event will take place at the Belle Mehus Auditorium in Bismarck with live performances by North Dakota artists and presenters.
Performers include Lifetime Achievement nominees Clyde Bauman (A.K.A Mylo Hatzenbuhler) and Richard Torrance, Breakout Nominees Tigirlily, Big Reeno and Zwarte. Presenters include North Dakota celebrities Brad Hackworth, AnnMaria De Mars, Sheila Schafer and Mike Seminary.
There are 41 categories with artist nominated from all over North Dakota including Fargo, Grand Forks, Minot, Hazen, New Town and Williston. A few categories include best blues band, best alternative band, best video and funniest band name.
Over 1,500 nomination forms were submitted with multiple bands listed and there are currently over 9,000 votes according to URL Radio co-owner Nicole Morrison-Mathern. Voting ends Jan. 31. The winners will be announced the day of the event.
"The absolute most exciting thing was notifying everyone," Mathern said. "It was better than Christmas ... We tried going as fast as we could so we could tell people but since it was posted online people started to know and share before we could tell them. Letting [the finalists] know and watching their reactions was so much fun."
To keep the event within three hours, 31 awards will be presented on stage and 10 awards will be awarded before the event that night. Each winner will receive a golden record frame with a plaque recognizing which award was won.
Local metal band Chaos in Question is nominated for seven awards including Best Original Rock Band, Metal Band, Male Singer, Percussionist, Bass Player, Stage Show and Best Song for "No Sunrise."
Guitarist Aaron Dorval said, "It was kind of a surprise that we were nominated ... We were really honored to get recognition from the community."
Other local bands nominated include Dirty Word for Best Rock Band, Big Reeno for Breakout Artist, Tripwire for Best Stage Show, Heart & Soul for Best Rap/Hip-Hop/R&B Group, Methuselah for Best Metal Band, and Carluster Crumplebee Orchestra for Best Instrumental Group. The Aquarium was also nominated for Best Venue.
32 Below is nominated for Best Original Country, Best Country Cover Band and U Rock Award (Band That Gives Back). The band has worked with Make a Wish Foundation and Extreme Makeover: Home Edition.
"We were pretty excited especially because we are nominated for more than one category. What we really thought was cool was the U Rock Award because we really pride ourselves on giving back to the people that support us," band member Bryan Loweree said.
The ND Music awards is showcasing the variety the state has to offer by having awards for different genres and artists on multiple levels. One way they are doing this is by awarding the Best College Band and Best High School Garage Band. Blackjack was caught off guard and never expected to be in the finals as a high school band just starting out.
"We're very thankful and happy that enough people in the community voted for us to make it into the finals," band member Evan Wood said.
URL Radio had the nominees be only people's choice to eliminate any favoritism according to Mathern. Adding there are bands she had never heard about before they were nominated and those bands wouldn't have been noticed if they weren't voted by the community.
There are plans to have the event again. It is still under discussion whether it will be an annual event or every-other-year due to the amount of "musical action" the state produces, Mathern said.
"[The Fargo music scene is] growing," Dorval said. "Every day I hear about a new band popping up ... There is The New Direction doing shows and the Aquarium doing tons and tons of shows ... I think it's great. It really shows that everyone is supporting the scene and bands are supporting each other. It's really vital to have that."
VOTE:
More info: