​Talking 'The Easy Way'
Music | July 24th, 2019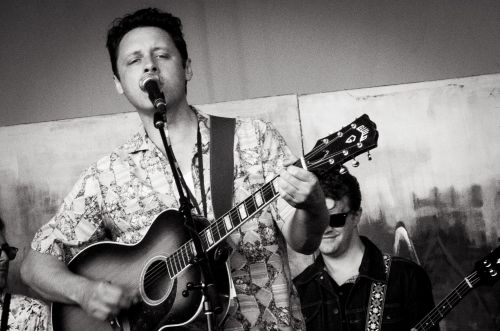 On the local level you may have caught The Minneapolis based Cactus Blossoms at Harold's Fest earlier this summer in Moorhead. The group is fronted by brothers Jack Torrey and Page Burkum, who made their first appearance in Fargo in 2013 as a duo. Since then they've added members and instrumentation. In fact a third brother, guitarist Tyler Burkum can be spotted wielding a vintage double-neck Jerry Jones Longhorn guitar.
The Cactus Blossoms' sound is unmistakable with their effortless Everly Brothers-esque harmonies and classically cool vibe. After their performance on Snowberry stage at the Winnipeg Folk Festival, the onstage announcer went so far as to describe their performance as "cinematic..." There's something to be said about their caliber of talent. Within the span of a few years they've worked with JD Mcpherson, Dan Auerbach, and even made an appearance on "Twin Peaks" in 2017.
That same day we had a chance to catch up with Page Burkum, who was extremely humble and within a few minutes, it felt like we were visiting with an old friend who we hadn't connected with in years.
HPR: Your sound is often compared to that of the Everly Brothers. Do the harmonies come naturally? How hard do you practice to get them right?
Page Burkum: When we write a new song it takes a second for us to figure it out I guess, not really that much though, it's kind of the easiest element of what we do, I think.
HPR: JD Mcpherson produced your 2016 album "You're Dreaming" album. How did you guys connect?
Page Burkum: I think the very first time we met was him just coming through Minneapolis and playing at First Avenue. We got to open for him and we were excited to do that. We met briefly that time and then we just kept bumping into him at things like this, at a festival, maybe a couple months later this band was playing another festival and we'd see him again. I think he could tell that we needed some help and offered to produce our album.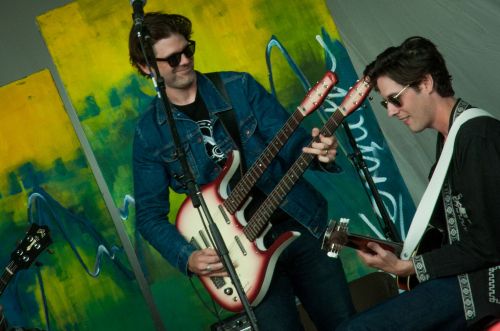 HPR: Dan Auerbach co-wrote a couple of songs on your latest album "Easy Way." How did that come about?
Page Burkum: We'd never met him before but we had the opportunity to just check out his studio in Nashville and meet up. He writes with a lot of people--he writes a lot of songs, it seems like he was a good routine of it of several different songwriters in Nashville. We don't really do that. We don't really meet up with other people and write songs everyday of the week but that's definitely part of his routine and he just invited us to be a part of that and a couple of songs came out of it.
HPR: When you write do you just start jamming or do you shoot for lyrics first?
Page Burkum: Basically someone just throws out an idea that maybe they've had in their head a little bit, maybe it's a half formed idea or it could be two words and a few chords that they think is leading toward a song, with three or four people around, it can develop quite quickly and hopefully into something good. You don't necessarily know (laughs) but you're putting out an idea and just hoping that something good will come out of it. We had a lot of fun.We hadn't been writing that much before we met up with him, it was kind of a dry spell because I think it was because we were touring so much, when we met him it kind of got us into gear a little bit.
HPR: Your sound kind of shifted from a classic country sound to a mid 60s beat, was that intentional or do you think that was part of your natural progression…
Page Burkum: I think it was just a...development. As you're playing longer different things interest you at different times, even just the people we're playing with and what we can do with that. When we recorded the album that JD helped produce, when we recorded that album we went to the studio without ever having had a drummer before and we didn't have an electric guitarist in the band. Ever since that album, we've had drums and guitar in our band and that leads toward a little more rock'n roll or something? You know? It's an evolution. It's fun to explore new territory.
HPR: You also made an appearance in "Twin Peaks"
Page Burkum: That was an unbelievable opportunity and still can't really believe that happened because it came out of nowhere...We aren't really big fans of any TV shows but that's one that we had gotten into.
HPR: You guys recently launched a record label... is that correct?
Page Burkum: Yes. Not to make it sound too hoity-toity but we created it just to release our own records so maybe someday we'll release some friends' records or something like that but right now the idea is to try to put our albums out the way we want to. There's so many ways to do it now, some people do traditional record labels, sometimes people just load it to bandcamp or something by themselves. We went that route and are just going it on our own right now just to see how it works.
HPR: What's next for the Cactus Blossoms?
Page Burkum: We are gonna be taking a short trip to go play in Europe, mostly in the UK and the Netherlands in September and then we're going to be touring the states a bit more in October and after that I don't know. Hopefully we'll start making another record.