The British are Coming to Bluestem
by John Showalter | .(JavaScript must be enabled to view this email address) | Music | August 8th, 2018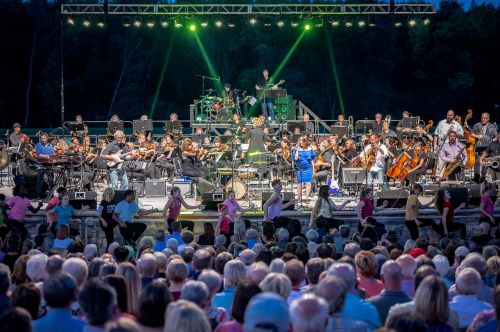 The fledgling United States of America was formed when the colonies took to revolution against the British monarchy over two centuries ago. Of course, that revolution did not prevent the British from invading us almost two hundred years later, during the 1960s and 1970s. Albeit then, they did it musically. The "British Invasion" marked a prolific influx of British musicians and rockers who left an indelible impact on pop culture on both sides of the pond, from The Beatles to Black Sabbath.
Those musical artists and more are the inspiration for the 8th annual "Symphony Rocks" concert being put on at the Bluestem Center for the Arts by the Fargo-Moorhead Symphony Orchestra, aptly titled "British Invasion". Linda Boyd, executive director of the FM Symphony Orchestra, is particularly excited about this year's addition to the series, which promises to be very successful as the reserve seating for the event has sold out even quicker than in previous years. Not to worry, however, there is still plenty of bench and lawn seating at the time that this article is being written.
The concert, which acts as a fundraiser for the FM Symphony Orchestra, will feature the talents both of the orchestra itself as well as the local twelve-piece funk band Post-Traumatic Funk Syndrome. The orchestra will lead into the concert with some familiar orchestral British music such as "Rule Brittania" as well as music from British television favorites like "Downton Abbey", "Masterpiece Theatre", and "Doctor Who".
After that, Post-Traumatic Funk Syndrome will join the orchestra to play interpretations of a number of classic songs from Great Britain that made a splash across the pond, like "Magical Mystery Tour" and "Eleanor Rigby" by The Beatles, "Kashmir" by Led Zeppelin, "Roundabout" by Yes, along with other classic British rock acts such as The Rolling Stones, Moody Blues, Pink Floyd, and Queen. Eventually they will work their way up to modern hits by artists like Adele and Ed Sheeran.
Unlike the Masterworks series of concerts, the conductor for Symphony Rocks is the Fargo-Moorhead Symphony Orchestra associate conductor Jane Capistran instead of Christopher Zimmerman. Being of British stock, however, the orchestra could hardly let Zimmerman get away without making a contribution to a British Invasion-themed concert. Zimmerman lent his voice to recordings for two of the songs that will be played, reciting a poem during a Moody Blues tune, as well as a heavily distorted version of his voice for the famous intro "I am Iron Man," in the classic by Black Sabbath.
Those who are interested can also take part in a pre-party before the concert at Marcil Commons. There they will find a mock British pub, "The Dented Horn", set up with a pub-style buffet which includes British culinary favorites like bangers and mash, Guinness beer cheese soup, vegetarian shepherd's pie, and braised beef and ale pie. Of course there's a cash bar (with one free drink), and plenty of games of chance and prizes.
"This is a great introduction for people who don't usually go to the symphony," said Boyd. With good food, good drinks, and good music, "British Invasion" promises to be a fun night for long-time fans and supporters of the Fargo-Moorhead Symphony Orchestra as well as those who are seeing them perform for the first time.
Make sure to get your tickets before they run out!
IF YOU GO:
Thursday, August 16th
Pre-Party 5:30-7:00 p.m. @ Marcil Commons
$35 admission (21+)
Concert @ Bluestem Amphitheatre, 801 50th Ave. S
Gate Opens at 7:00 p.m. (no refunds, rain or shine)
Concert @ 8:00 p.m. (all ages)
Adults $20, Students $10, general admission (bench/lawn)