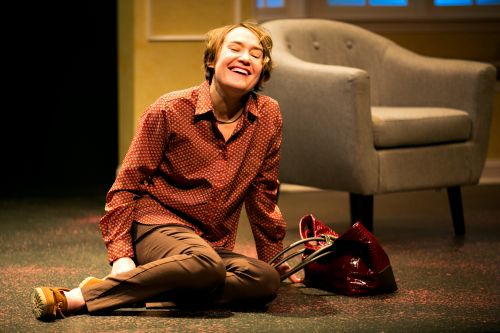 by Kris Gruber
perriex1@gmail.com
High Plains Reader spoke with the Executive Director of Theatre B, Carolyn Wintersteen, and Michael Robins, Director and Artistic Producing Director of Illusion Theatre about bringing the production of "The Pink Unicorn" to Fargo, and the play itself.
HIGH PLAINS READER: Can you tell me a bit about your role with Theatre B?
CAROLYN WINTERSTEEN: I am a co-founder and the Executive Director of Theatre B. My role has evolved over the years as the organization has grown. Fortunately, I still get to perform, but most of my work is administrative. I write grants, help organize fundraising campaigns, help plan our programming, and generally connect Theatre B to the community at large.
HPR: Is there a special process that goes into bringing an out of town play to this area?
CW: Thank you for asking this question. There are special processes, and we are learning more about them because of this project. Our new venue allows us to host other groups more easily, so we hope to do more if audiences like it. In this particular case, we learned about the touring production from a woman who grew up in Fargo and now lives in the cities and serves on the Board of the Illusion Theater. She knew about Theatre B because her parents are fans, (they were at The Roommate last weekend!). She connected me to Michael Robins, the Executive Producing Director, and during our conversation we realized our missions align and our organizations are similar in many ways. "The Pink Unicorn" is perfect for Theatre B. It's the kind of show we would produce ourselves, so it is nice to present it here on a weekend in our calendar when we would be dark.
HPR: How important is the right audience for a particular production? Does it figure into the selection process?
CW: Yes, we always consider the audience when selecting our productions. It is important for Theatre B to host conversations about pressing current issues, in addition to providing entertainment. We pay attention to local, regional, and national events that have people engaged, concerned, or talking.
"The Pink Unicorn" is a great opportunity to advance the mission of two (or more) organizations at once. I myself have had multiple conversations with my children and their peers about how the language around sexuality has been confining, belittling, and insufficient. Language is a living thing, so it changes, and now is a moment when we are all asked to think differently about words we ascribe to people without their permission. I really hope the play opens up new ideas for everyone who attends, and I am excited to learn from it myself.
HIGH PLAINS READER: Can you tell me about your role with Illusion Theatre?
MICHAEL ROBINS: I am the Artistic Producing Director and the director of this play. I have personally, and Illusion as a theater, has toured to every corner of Minnesota and when we first did "The Pink Unicorn" it was my goal to bring it on tour, because, even though the main character is a Texan, she rings true to so many of us Minnesotans.
HPR: For those that haven't heard of it, can you summarize "The Pink Unicorn" ?
MR: This is the story of this Mom standing up and becoming an advocate for her daughter against the Church, the School, her own Mother, and all kinds of hate speech. It's about what a Mom will do for her kids.
"The Pink Unicorn" is an award-winning solo piece. Ivey Award-winning Kate Guentzel plays Trisha, a Christian widow, who must choose sides in her conservative Texas town after her teenage daughter announces she is "gender queer" and starts a chapter of the Gay Straight Alliance at the local high school. With sharp wit and humor, this rich and poetic story explores what it means to be a parent and a community in these changing times.
HPR: What makes the production of this play so special?
MR: The play is inspired by personal events experienced by the playwright, Elise Forier Edie. The "powerful message of this brilliantly wise and inspiring work" (NY Theater Now) has touched audiences across the United States and Canada. After witnessing gay people being shunned and excluded from a local school and church, Edie explained that she began writing "The Pink Unicorn" "in an effort to deal with my anger and fear around these incidents."
What were these people so afraid of? Why would they twist logic and defy reason and even hurt their own children to keep the harmless LGBTQ community from coming out, and enjoying the rights of every other American? And what could I do about it? How could I change it? How could I make a difference?"
This play is what one mother did to bring us into her world and have us go on her journey of discovery and understanding.
HPR: What would you like audiences to know about the play and Illusion Theatre?MR: The Illusion Theater has been developing and bringing new work to the stage for all of our 45 years. We have won numerous awards for that work and for playing a role in giving diverse artists a home. What is so wonderful about "The Pink Unicorn" is that it uses the most basic of theater techniques—pure, direct address storytelling. We are all invited into the story circle by Trisha Lee to learn about her life and as we journey with her, through the ups and downs, the surprises, the heartache and the joy and humor of her life, we are able to see our life and feel like we've made a new best friend.
IF YOU GO:
Saturday, Mar.7, 7:30 pm-9:30 pm
Sunday, Mar.8, 2 pm-4 pm
Theatre B, 215 10th St. N, Moorhead