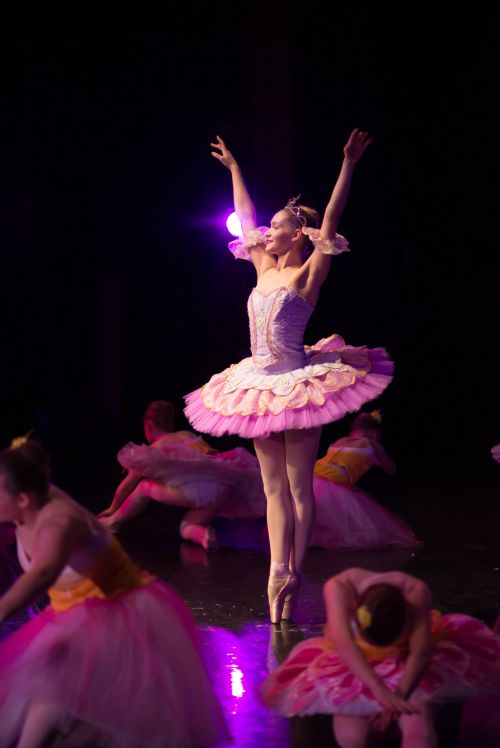 by Gabrielle Hersch
gabbyhersch@gmail.com
Listening to Christmas music as I decorated my tree this weekend, I couldn't help but find myself drawn into a sort of eerie, mystifying melody. It took several moments before I recognized the familiar and alluring "Dance of the Sugar Plum Fairy."
As the lovely, unearthly tune played, I found myself thinking about the dreamy surrealism that I often feel during the Christmas season. Dark rooms only illuminated by the glowing lights on the tree, a fireplace video found on Youtube, and the glare of the streetlights and the glitter of fresh snow outside creates a cozy, dreamlike atmosphere.
Apparently, E. T. A. Hoffman, author of the original story "The Nutcracker and the Mouse King," and Tchaikovsky, composer of the ballet's original score, felt the same supernatural, exciting dream-state of a snowy Christmas night.
In this classic holiday production, a little girl, Clara, goes to bed distraught over a broken nutcracker doll — a gift from her beloved Uncle. Worry, angst, and a sedative holiday slumber transport Clara into a fantastic Christmas wonderland. Here, toys come alive and Clara finds herself in a battle of good and evil as she walks the line between reality and fantasy.
The magic of the season — and this classic ballet — is undeniable. "It's an example of beautiful storytelling," said Matt Gasper, Artistic Director for FM Ballet. While Gasper has been choreographing FM Ballet's production of "The Classic Nutcracker" since the beginning of its local run eight years ago, he says that each year is a new endeavor. "You may have seen The Nutcracker before, but every production is new," Gasper said, as each year features new choreography and artists. This year's production will also feature new costumes by designer Suzanne Spiese.
The story, Gasper said, is easy for people of all ages to grasp -- which allows the artistic freedom for fresh choreography and an interesting take on a classic ballet. Come get drawn into the enchanting story, graceful choreography, and beautiful melodies with the artists of the FM Ballet and The Wonderland Orchestra.
"The Classic Nutcracker" production is not only a Christmas tradition but a wonderful celebration and showcase of local artists. The production features original choreography by Artistic Director Matt Gasper, intricate costumes designed by Suzanne Spiese, and music performed by The Wonderland Orchestra, which is comprised of professional musicians in the Fargo-Moorhead community directed by Dr. Christina Chen-Beyers.
This week, come get pulled into the holiday spirit with the celestial music and dance of "The Classic Nutcracker," with performances at NDSU's Festival Concert Hall December 15th and 16th. Notably, last year's final show did sell out, and tickets are going fast yet again this year — so secure your ticket while you still can.
You should know:
The Classic Nutcracker
December 15th, 2018 @ 2:00 p.m. & 7:00 p.m.
December 16th, 2018 @ 2:00 p.m.
NDSU Festival Concert Hall, Reineke Fine Arts Center, 1511 12th Ave. N.
Fargo
Tickets may be purchased online at fmballet.org/tickets or by calling 701-234-9440.
Prices range from $8-42.