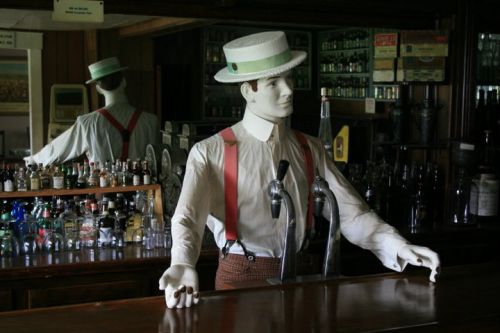 There's something to be said about a good bar. There's a recipe and there's more to it than grabbing a stool and getting soused but you can do that too. There's often some sense of fellowship or community there, especially when everything else that seems familiar seems to be rapidly disappearing. I've come across a few towns where the local watering hole is the last business standing -- even outlasting houses of worship.
In our August 8 cover story, "Red River Rainbow Seniors: Harvesting LGBTQ history" I asked Larry Peterson the steward of the GLBT oral history project whether he thought gay bars were still relevant and he said, " It's a place where people congregate and feel comfortable... I've heard people say -- it's like our church. In a sense of not worshipping there (laughs) but going to a place where you feel comfortable and accepted."
Coming from an occasional bartender and patron, I really think there's something to that no matter where you go or who the regulars are. Whether you're seeking out an establishment with 56 televisions blaring sports sounds to an enthusiastic bar room full of football fans cheering or pulling their hair out -- the latter especially if they're Vikings fans…
Or a small gem on the prairie armed with a jukebox and an acoustic guitar behind the bar just in case there's a lull in jukebox selections but never a lull in conversation. Only a pause out of respect for the strummer.
We all want a place to congregate and to feel where we belong and to be accepted. There's something comfortable about returning to a place, being acknowledged, and if the bartender remembers your drink they're worth the whiskey… or coffee.
I'm a sucker for a good neighborhood tavern. It almost serves as a public living room where the coffee is always on and the beer is always cold. When I hit up my favorite watering hole I don't mind walking in by myself. There's always someone to talk to -- I may be alone but I'm definitely not lonely.
I might be a bit biased. I prefer an establishment that has character within its walls and plenty of characters on its barstools. It's a sampler platter of local flavor. Where else can you get the latest news or hear a good story worth retelling? My grandpa often says that a story isn't worth telling unless you can add to it.
I also like a friendly small town bar. In fact, I seek them out and collect their stories for safe keeping so they won't be lost. Oral histories are alive and well in these places. Plus it provides me with a bit more perspective on the ways of the unpaved roads of the world. Unfortunately these establishments are rapidly disappearing.
Last January I had chance to chat with Wendel "Flash" Krous proprietor of Flash's Place in Sterling and he said, "In these little towns it's tough to keep a bar going. We're lucky to be on the highway -- you get to these other little towns that are off the beaten path... The farms just keep getting bigger and bigger and there's less and less people around."
Bars like Flash's, Hanson's, the Dune and so many more are unique in the regard that the regulars watch out for their own. They peer down the rail and they see their friends and neighbors and even keep a watchful eye between eye rolls if 'ol so-n-so has one too many. They'll even notice if one of the regulars fails to come in during their regular time and that stool remains unoccupied. I think we can learn a little about humanity in these establishments off the beaten path.
Though no one has managed to figure out how to solve the world's problems (yet) via bar stool socialization or even through bar stool science. The art of civil conversation hasn't managed to die out yet in many of these establishments. There is no urban anonymity here. These communities and vast ribbons of highway are the places where the farmer wave is alive and well and simple acknowledgement speaks volumes because you never know when you need to be pulled out of the ditch in the winter.
For some reason food and drink establish a sense of community. Whether laughing with your friends over a beer (or coffee) or whether one of the neighbors brings in a jar of spicy pickles or freshly made liverwurst to share with the bar. The local watering hole is more than just a watering hole. It's a community space. To draw from the name of the Fredonia bar it's like third base--it's the last stop before home.