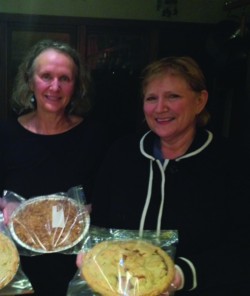 My husband and I have owned two homes in Fargo and both have had apple trees, although not the same kind. And, as of this writing, neither of us have a clue what the names of the apples are, only that they were and are delicious.
Over the years, more when we lived at our previous home in south Fargo, in my young and more energy filled days, I would have my nurse friends over for an apple-cutting, pie-making, whatever-let's-have-some-fun-girltime party! It was so interesting to see how we all cut apples, as we, of course, had lots of conversation while cutting them. I remember that I found my friends cut like their personalities: Jeanne B. would cut very purposefully; Diane L. would cut at a steady pace, but stop almost in a rhythm format; and another nurse friend, I cannot remember her name, would cut like she talked -- really, really fast!
I too would cut like I talk: start, stop, changing to another apple without finishing the one I had, but always coming back to the first apple. It truly was fun and funny. Now I am wondering why I did not think to make or serve apple wine. I'm not saying we did not partake in a few different beverages though (it was a party after all).
So let's talk about apples, I think they deserve a little recognition. I know there are many apple orchards, but having a tree in your backyard is the best. Living here in Fargo I know we all have a friend that knows someone that has an apple tree; it's sort of right up there with knowing someone that has rhubarb and/or zucchini. So what can we make, besides the standard apple pie, apple crisp, apple sauce and the same old, same old?
I looked up, on Google of course, apples and what else to do with them. In the spirit of the holidays and even Halloween -- that's right, some consider that a holiday -- I have three different fun recipes for you to try.
But first just a trivia question and answer. Do you know where "Johnny Appleseed" came from? A gentleman by the name of John Chapman became famous for planting trees throughout Ohio, Indiana and Illinois (his name became "Johnny Appleseed").
And did you also know that research from the United Kingdom published in 2007 reports that children of mothers who eat apples during pregnancy are much less likely to exhibit symptoms of asthma, including wheezing?
OK, enough of my going on and on; let's get to the recipes. I do want to say though the apple party I just had was a great time to connect with my friends Cathy Waters and Diane Larson. I just never get to see them. I still forgot about the apple wine so we had to drink other things. We ended with great conversation, and as the pies and crisp baked we had a great time in the hot tub. Now that is what I am talking about.
Scary Apple Mouths
Quarter and core a red apple; brush with lemon juice.
Cut out a wedge from the skin side of each piece so it looks like a mouth. Fill with peanut butter, then insert sliced almonds for "teeth."
Recipes from Food Network ("50 things to make with apples")
Swedish Gløgg
4 tsp. tea
1 qt. (4 c.) boiling water
2 sticks cinnamon
2 c. apple juice
1 46-oz. can grapefruit-pineapple juice
Steep tea
1 quart water with cinnamon sticks for three minutes.
Heat juices. Add to tea. Serves 15.
Combine all ingredients in a punch bowl. Add ice or sherbet. Serves 25.
*Information from Apple Products Research & Education Council