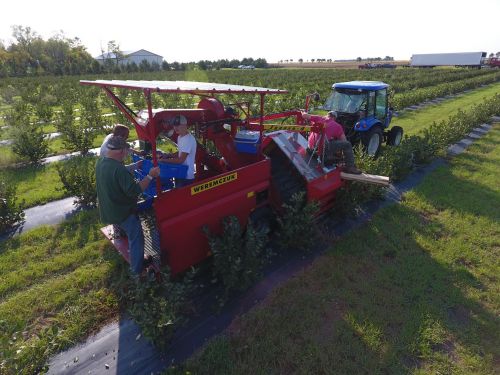 By Kristin Gruber
perriex1@gmail.com
The High Plains Reader spoke to Chase Nelson of Nelson Farms about why his farm chose to specialize in the unique Aronia berry, and the upcoming festival celebrating it.
HPR: Can you tell us about Aronia berries, and how they came to be a focus of Nelson Farms?
Chase Nelson: The Aronia berry is full of antioxidants! It is actually the highest on the ORAC scale. Aronia berries grow on a shrub and produce a dark, purple berry. They are amazing in smoothies, waffles, cookies, muffins, breads, etc. We started raising Aronia because my dad was diagnosed with COPD a couple years ago and was desperate to find some relief. A friend of his told him to try some Aronia juice from his farm. After taking it for a few months he decided we could grow it ourselves and it kind of blossomed from there. We have roughly 33,000 Aronia berry bushes. We really believe in the health benefits that this berry has and we want to share that with everyone.
HPR: Are they becoming more popular?
CN: They are slowly gaining popularity, but they are still largely unknown to the general public. We are having our Aronia Berry Harvest Festival event to educate the public on how great these berries are and all the different ways they can be used. One of the harder "selling points" of Aronia Berries is that they are so tart in taste -- we have learned that if you use them the right way they can be very delicious and healthy! Ax Water is a company that my dad is a part of, this company and beverage was created to make a delicious way to get your Aronia Berry fix! Ax Water is a delicious and healthy beverage that highlights the Aronia Berry!
HPR: You sell the berries on the Nelson Farm website. I love that you can order them "de-stemmed" and "sterilized."
Why is it important to offer these options?
CN: Most people will buy berries right off the harvester from us -- it's much cheaper and a lot easier to do it that way. De-stemming and sterilizing the Aronia Berries allows them to be ready-to-use when bought (when the Aronia Berries come off the harvester, there are still a few stems and leaves that tag along). When we harvest our Aronia Berries this year, the bulk of our berries will get sold to Aronia Growers, LLC where they get de-stemmed and sterilized before they are used.
HPR: On to the Festival -- can you give us an overview of how it began, what people can expect there, and what makes it different or unique from other fall festivals?
CN: We started planning the berry festival to educate the average consumer on Aronia Berries and also because this type of harvest is so much different from anything you see in North Dakota. We really wanted to showcase the harvester that we use for the berries, but felt we needed to add other things to do. Guests can expect to see the Aronia Berries and bushes, the harvester, yoga with our free-range chickens, a variety of local artisans and vendors, musicians, food trucks, and the main event -- a local chef cook off! We have chefs from restaurants such as Toasted Frog and the Boiler Room battling out in different categories with our Aronia Berries. Guests will have tickets and can vote on who you think should win. The Aronia Berries themselves are going to make this event different and unique! Guests are going to learn about something that they may have never heard about before. We are excited and anxious as this is our first ever event. We hope to make this an annual event!
HPR: Is there anything else you would like to add? Where can people find more information about the festival?
CN: Nature of the North is our co-host -- we could not have planned such an amazing event without them!
People can find more information about the event on our Facebook page: Nelson Aronia Farm, or our website: www.nelsonaroniafarm.com. We will be updating the Facebook event constantly this week and throwing out some highlights each day until the event on Sunday, September 15th!
IF YOU GO:
Aronia Berry Harvest Festival
Nelson Aronia Farm
Sunday, Sept.15, 12-4 p.m.
15670 25th St. SE
Amenia, ND