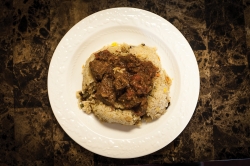 On Oct. 8, when news broke from the Dallas Texas Presbyterian Hospital about Thomas Eric Duncan's fatal demise, assistant chef Mohamed Yasser continued about his morning routine: waking up minutes before 7 a.m., preparing his girlfriend's daughter for school and finally shelling out items (ideas) from his freezer in order to accommodate the head chef's daily specials. Named the Afro Latino 18 Cuisine, the eatery figured to cater to the rising population of Africans (as well as African Americans and other minorities) in Fargo-Moorhead. But since the restaurant opened mid-June inside the 25th Street Global Plaza it has catered to starving and intrigued customers of every color and creed.
The Liberian native welcomed me to a black marble table facing a NASCAR race on HDTV, in which he implied he must watch. As he shuffled toward the kitchen I took in the amazing details of pan-African colors designed on the walls with little African akuaba dolls framed about the spot. I was welcomed with a large cup of Special Gun Powder Tea, a Chinese green tea brew (according to a smiling Yasser). When consumed, it may invigorate a depleted immune system and sexual metabolism ... That's well worth drinking to.
As I sipped and brainstormed on what to order, I listened on to Yasser explain his plight about Liberia: "In my country you (got to) see it before you ever believe it … but the media sees Africa as a very sweet disaster."
Honestly, I was not sure if his comment shed a positive light or negative lens regarding West Africa. Although not front page news, several news sources and economists have predicted that 50 percent of Africa's countries can expect to be leading the world in exporting of some natural resources within the next 50 to 75 years. After eyeing Saturday's menu, I choose the fried tilapia, sweet plantains, tomato goat stew, a side order of collard greens and oxtails with steamed rice.
Gina LaCroix, the general manager, grinned at me, "You're going to want these collard greens to go!"
When the food landed on my table, I fully understood LaCroix's reasoning. Thick cuts of crispy bronze plantains sizzled between two slices of golden breaded tilapia and an order of attiéké, a West African novelty side dish that's a soft crouton-like wheat grain topped with fresh sliced tomatoes, onions and cilantro. LaCroix explained to me that the attiéké compliments the rich meaty flavors of the tomato soup base that's added with tender cuts of goat, shrimp and beef.
I asked Yasser whether the Ebola crisis in West Africa had affected his life or business. "No, customers from the barber next door (Skill Cutz Barber Shop) still eat here everyday … My family living at home have worked, played and made sure to be picky clean about our water and hygiene. Many aren't wise or rich enough to always boil all water ... But none of my family or friends are affected."
The restaurant's most popular dish is the Cassado Leaf Stew, a blend of fresh cut meats tossed with cassado leaves imported from Ghana with your choice of fufu, which is often made with flour from the cassava plant or from semolina or maize flour. Others prefer it with attiéké or with rice. Mohamed continued on: "A poor man back home can eat attiéké during the sunrise and it will keep his belly full until night."
But no matter what dish customers order, their food will not only be prepared with flavor in mind, but also with vitality.
By the time I began scraping my plate with my fork to finish off the remaining savory oxtails and attiéké, I leaned back and asked LaCroix for a to-go box for the rest of my rice and collard greens. And hot damn! The smokey aroma of those greens took me way back to my early teens when my Aunt Jean of Alabama used to boil a large sailor's pot of oxtails (the culinary cut name for the tail of the cattle) and collard greens over the stove right before leaving for Sunday's service. But with each dish ranging between $7 and $15 bucks, if one's taste buds crave meat cooked so tender that one may not be too embarrassed to suck juices off the bones, then come enjoy this authentic cuisine.
Although Ebola was not my reasoning, I did say grace over the food. It's not hard to eat what I believe in: if available, good food can be one positive to appease a crisis in any part of the earth … even from a Third World country.