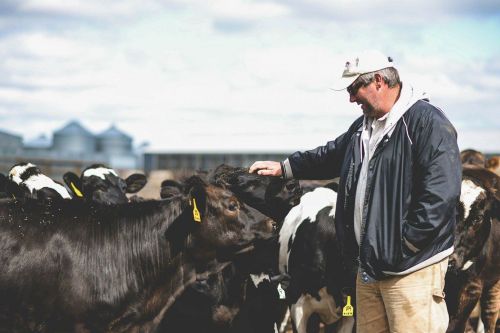 In central North Dakota, just south of I-94, sits a little storefront in the small town of Sterling. It is owned by Blaine and Kathy Goetz, and has been providing a unique service since 2008.
Kathy will tell you, "we just bottle milk," but if you dig deeper, you will see that the story of Bessy's Best is much richer than that.
Blaine and Kathy were dairy farmers for nearly 30 years before they opened Bessy's Best. They milked around 250 cows and it was a business they shared with their son, Travis, and his family. Then, in the years leading up to the decision to open Bessy's Best, they found themselves at a crossroads.
"When we started, there was over 5,000 dairies in North Dakota," Kathy said. "Today, there's only 60-some. In Burleigh County, there's only three of us left."
The problem was the market. All around the upper-Midwest, dairy farms are shutting their doors due to milk prices bottoming out and leaving dairy farmers with the choice of operating at a loss or getting out of the business altogether.
For Blaine and Kathy, the decision was complicated.
"If it was just my husband and I, we would have just shut it down," Kathy said.
Blaine and Kathy's son, Travis was also part of the business and he had a family to care for.
"At that time, my son was home," Kathy said. "He had a young family and it was like, man, you hate to just dump them out on the road and say, 'go fend for yourself now, after all these years,' you know? We didn't have enough for two families."
So, they made the decision to produce their own dairy products and figured out how to make Bessy's Best happen.
"We put up a Morton Building and went looking for parts," Kathy said. "Everything in there is used. If we to buy new, we'd have never been able to start it, but we just got on the internet – thank goodness for the internet nowdays – and then, we just started putting it together."
Luckily, Travis is handy with a hammer.
"[Travis] actually did most of the work," Kathy said. "When you're on the farm, you tend to be the Jack-of-all-trades. He did our electrical work. He did our welding. He did our freon work. He did our sewers. He put in our floor heat. He can pretty much do anything, and he did."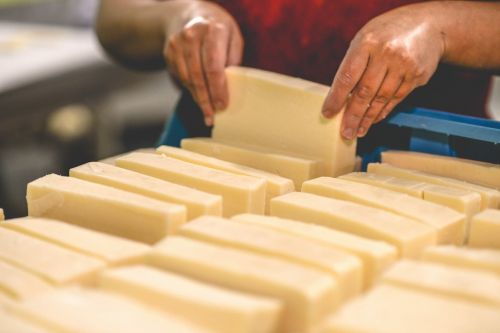 After two years of getting everything put together, Bessy's Best was ready to go. They set up the storefront, trimmed down to 100 cows, and began producing their dairy products. At the storefront the products are available on the honor system.
"We put this old refrigerator, just to put milk out there because we had people who came and got the milk," Kathy said. "It's open 24 hours. You can come anytime of the day or night. We started with a Folger's coffee cup on top of the fridge and that's what they would put their money in. It just was full all the time, so we put a little cash box in there so people could make change. A lot of people didn't like putting their checks in there, and I'd tell them, 'put it underneath. Nobody ever looks under there.' But then I had a bad experience with someone. We ended up taking that out and since then we just have a drop box. The downside is they can't make change, so they either have to have exact change, or write out a check."
Today, Bessy's Best still has the storefront, but they also deliver to stores all around the central and western part of the state. You can find their product in grocery stores in Bismarck, Mandan, and Dickinson. They also deliver to a warehouse that then delivers to small towns in northern North Dakota.
Kathy said Bessy's Best dairy products are all natural, meaning they do not use any antibiotics or hormones.
"When you look in the dairy department when you're in the natural foods, you can't even find a milk that says just milk," Kathy said. "In our ingredients, on our list, is milk. Only milk."
At the storefront, they also sell other products people may want when they stop for dairy. Kathy purchases different products wholesale for cooking and sells the extras in the store. They even sell buns, ice cream, and soups when they have the help.
Over the years, Bessy's Best has recruited trainees from around the world to come and help on the dairy farm. They have seen people from Japan, Germany, the Philippines, and Brazil who have come to the United States as part of their education through the Ag program. Kathy said they have one trainee right now and he is eager to learn.
"I came home the other day and there was this guy I didn't know and he's out there with my husband down at the barn," Kathy said. "I went out to visit and see who it was and meet him. It turns out, he's from Africa – he got a 10-year green card. He's here for 10 years and he's here because he wants to learn all that he can. He's got two jobs. He just wants to learn. He doesn't want a paycheck. He just wants to learn all he can before he goes home."
Unfortunately, trainees have been hard to come by lately.
"This has just been not a good year," Kathy said. "I put ads out, but I get no response. Nobody wants to dairy. That is kind of hard work – long hours and split shifts."
Kathy said they generally have had five or six trainees at any given time. Now, with just one, it has been very busy.
Despite the struggles they have faced in the past with dairy prices and now with finding help, Kathy can't complain.
"Bessy's been good," she said. "We're never going to get rich, but we're perfectly happy. We're doing fine."