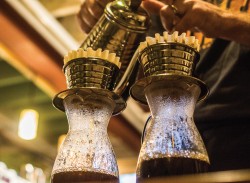 Greg Stumbo of Fergus Falls started roasting coffee in the early 2000s as a hobby. He said it was a popular trend at the time and he was starting to see an annoying push from advertisers for roasted coffee.
"It was weird to see how advertisers marketed buying coffee back then – it was really sexist – like guys angry at their wives because they had burnt the coffee," Stumbo said.
Therefore, he stuck to roasting his own beans from then on for his family, friends and for wholesale. He and a business partner managed the Café 116 coffee shop in Fergus Falls for some time but a few months ago he split off to focus more on roasting and opening another shop. On Sept. 10 he opened Stumbeano's Coffee Bar in the basement of the Loretta Building in Downtown Fargo.
Upon walking into Stumbeano's, as a customer, it feels evident that Greg loves what he does. He glides behind the counter preparing the popular pour-over coffee while catching glimpses of everyone who walks in the door and shoots them a cheerful greeting.
"If the worst part of my day is that I have to wash dishes, then that's a good day," he said.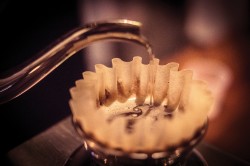 There's a real science to the drinks he creates, and he's happy to go through the processes with curious customers. After pouring me a fresh cup of the Kenya blend, he used a Brix Refractometer, a tool commonly used by beer brewers and sommeliers, to test the concentration and strength of the brew.
Stumbo gets his beans from Café Imports out of Minneapolis and TeaSource teas also from Minneapolis. The pastries and breads are all regional as well coming from Falls Baking Company in Fergus Falls, and steel cut oats from Natural Way Mills in Middle River, Minn. He is a proponent of supporting locally and adheres to the idea that every dollar a local business receives is circulated seven to eight more times throughout the community.
Stumbeanos is the only third-wave, or artisanal, coffee shop in Fargo and thrives on providing evolutionary coffee without the pretense.
"I learn new things about coffee all the time. Everyone should be able to; you don't have to live in a big city." Stumbeano's has a very approachable atmosphere and Greg encourages anyone who likes coffee to stop in and try the unique offerings.
For those with a sweet tooth, try the house-made vanilla or mint simple syrups. The notes are subtle enough so that the flavor of the coffee isn't masked but it adds an exciting aftertaste. Also, the house-made chocolate and caramel sauces are seriously delicious. For comfort food, try the Falls Baking Company toast with butter and cinnamon sugar or a chocolate date brownie. Bean blends include Kenya, Ethiopia, Colombia, Mexico, Brazil and Decaf but roasts change according to harvest so there will be a new batch about every six months.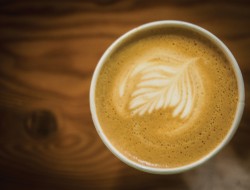 When asked which was the best blend, Greg said, "The Ethiopian blend is killin' it lately. It's so distinctive and the blueberry notes are incredible." But each blend clearly offers its own unique aroma and flavor.
Stumbeano's coffee is also available at Fargo restaurants such as Nichole's Fine Pastry, Hotel Donaldson, Blackbird Woodfire, Smiling Moose, Sandy's Donuts and more. Stumbo is proud to be involved in a small business where he can tell you exactly how his product came to fruition. He roasts and grinds the beans, checks water pH, and concentrations and controls all variables and parameters of the drink. The finished product is of utmost quality. That is … a damn fine cup of coffee.
IF YOU GO:
Stumbeanos
7 a.m. to 5 p.m., Monday through Friday
8 a.m. to 6 p.m., Saturday
210 Broadway
@stumbeanosFGO