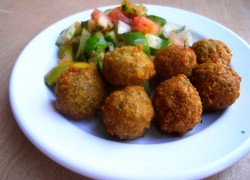 My friend Barb wanted me to teach her how to make my version of falafels. It really is the version that a coworker from my Full Circle Restaurant days shared with our staff.
For those of you who do not have a clue what I am talking about, falafels are made from garbanzo beans (some call them chickpeas). Fava beans can also be used.
Falafels are full of delicious spices and served on pita bread, or in my case I like to put them into a wrap. They have humus, tahini sauce and lettuce too. I like putting dry coleslaw on instead of the lettuce because it adds a nice crunch.
My falafels are not fried; instead they are baked in an oven at 350 degrees. They look like miniature patties, like hamburger patties.
As Barb and I cooked, the air in the kitchen smelled absolutely amazing. I mean, wow!
As we cooked, we spent time in the kitchen catching up on long overdue stories and discussing, of course, how we could save the world. I highly recommend cooking with friends. It's a great time for conversation and, of course, that chance to drink wonderful glasses of wine.
This is not a hard recipe -- it may look that way because of all the ingredients, but it is not that hard. I really feel that if you're going to bother to make them, make a lot. I use two or three in a wrap. Below is the recipe. If you are not one to want to make the humus and tahini sauce, you can purchase those at your local store.
Falafels
Turn on your oven to 425 degrees.
Soak:
6-8 slices of bread in water, drain and crumble, then set aside.
Mix together:
1 1/2 tablespoons cumin
1 tablespoon dried basil
1 tablespoon coriander
1 tablespoon thyme
1 tablespoon salt
1 tablespoon turmeric
Black pepper to taste
In a large bowl:
Set aside 8 cups chickpeas, cooked and processed in a food processor
In a food processor, mix the following:
15 garlic gloves
2 large onions chopped
2 1/2 cups coarsely chopped fresh parsley
Put all of the above ingredients in a large bowl and add 1/3 cup lemon juice and Sriracha or other hot sauce to taste
Mix together well
Form into slider-size patties.
When you're done making the patties, put them on a cookie sheet and bake 20 minutes on one side and 6 to 8 minutes on the other or until nice and brown. Do not try to fry these, as they will simply fall apart. They must be baked.
I'd serve these on whole-wheat flour tortillas with homemade hummus and hold the tahini sauce. I prefer using a cabbage slaw with it, but you can use lettuce. I put two patties on each one. Wrap it up like a burrito and cut it in half, and then eat it. Yum! After they cool they can be frozen for a very long time.