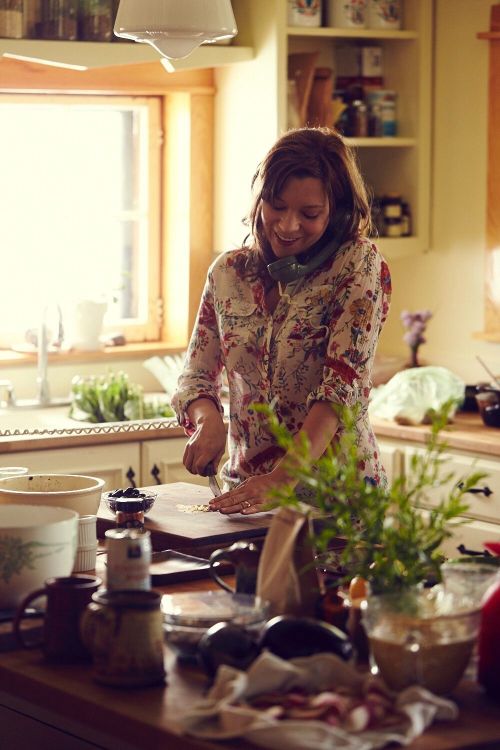 In rural Minnesota, outside of Park Rapids, Amy Thielen was attempting to light her wood-fired oven. It is in her brand-new kitchen that she hopes to teach cooking classes out of, which is a far cry from what it was when she and her husband first moved in back in the late '90s.
"The house we live in is kind of rustic," Thielen said. "This whole house is handmade. My husband built the original part [by hand]. It was a one-room cabin. We had no running water or power or anything. He built it with, literally, a handsaw. Our house is kind of this handmade thing, that keeps growing. I built a huge kitchen. That's why I want to do classes. For a long time, in the early years, we lived here with no power. We pumped our water. We lived here for six months of the year for two years before we moved to New York City. It was after college for a couple of years. We would stay for the gardening season and then it would get too cold to be taking a shower outside. Then, we would pack it in and move to Minneapolis. That changed when we moved to New York City."
Thielen is an author, cook, speaker, former Food Network show host, gardener, and expert on Midwestern cuisine. She grew up in Park Rapids and then moved to Minneapolis for college before moving to New York.
"I worked in fine dining in New York City for about seven years," Thielen said. "It was very fancy, but very hip too. It probably shaved some time off my life. It was [stressful] to the max. I worked for a lot of good restaurants. I worked for a lot of good chefs and I was on the opening of three different Manhattan restaurants. I think that was the most stressful part because it was when the critics come and it's like you want to have a cardiac arrest. It adds even more intensity to what is already a long-hours job."
After a decade out East, Thielen and her husband, Aaron, moved back to Minnesota. That was when she began working on books and "Heartland Table," a television show on the Food Network.
"I am a cook and a writer," Thielen said. "The writing is a big part of what I do. My primary focus is developing recipes and writing about hunger and place and mood and the emotional impact of food. I wrote a cookbook called "The New Midwestern Table" and it was an anthology of midwestern food, but updated for modern tastes."
Thielen said the book doesn't go into a grander history of midwestern cuisine but is focused more on her own family history.
"There's a lot in that book that reads very specifically upper-midwestern," she said. "There are a lot of people from the upper Midwest who related to it. They had very intense reactions to it because up to 2013, there'd been some regional books, but I took it on pretty ambitiously. I had a really good publisher and the TV show launched at the same time, so it was kind of a joint effort to get out the word about midwestern food. My publishers were also my TV producers so it was kind of an engineered launch."
Thielen's second book, "Give a Girl a Knife," was a change in gears. Instead of recipes, she was able to tell more of her story.
"My publisher wanted me to write a narrative nonfiction book," Thielen said. "So, I chose to write a memoir. It's a story about coming home, basically. It focuses equally on my time in New York fine dining kitchens and our time living here without any power. So, there's that juxtaposition there."
Thielen's next book is scheduled to be released in the Fall of 2020. It is a return back to writing about food, as a cookbook and other stories.
So, where does Thielen get inspiration to continue to write and come up with new, fresh ideas about food?
"Sometimes, it's the grocery store in the winter," she said. "In the summer, I have a huge garden and I grow a lot of food. I think the recipe development part is the juice of creativity, really. The creativity of necessity. What do I have in my refrigerator that I can turn into something?"
Sometimes, that inspiration comes right from the Midwest style.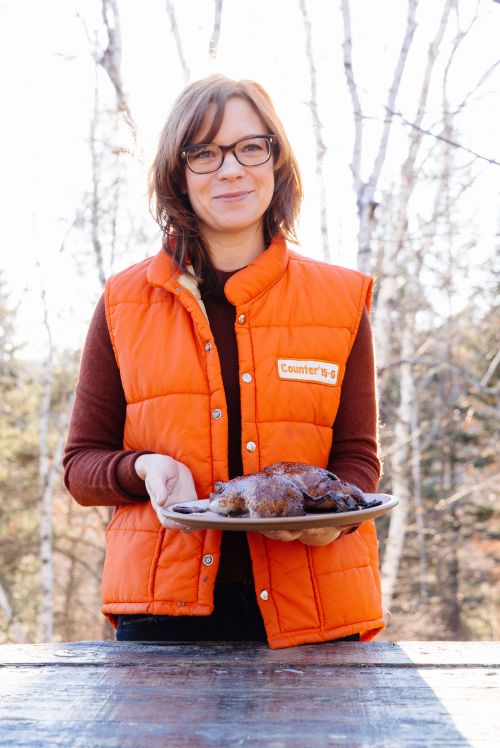 "The Midwest is a cuisine of resourcefulness and thrift," she said. "Thrift is really important here and I don't ignore that. And I'm not going to ignore that in the next book either because I think that sometimes people forget about what things cost. And not just what they cost, but what are they worth? The food you can grow yourself, or buy at the farmer's market, or get a pig from your neighbor down the road, anything you can get locally that's really well made and somebody cared about producing is worth more than what you can buy in the store.
"The irony is that it often costs less and I don't know if that's the case around the whole country," she said. "I think that that's kind of particular to here, which is really fascinating. I can go to my Amish farmer where I buy my pigs and a lot of root vegetables. It's amazing and it's way cheaper than if I were to buy that stuff at the store, and it's organic, and there's a variety. I think that thrift plays a large, but rather hidden part in how Midwesterners in this region eat. And how we eat well because back in the day, people used to say, 'oh, they ate well.' Well, that has nothing to do with whether or not they had a lot of money. That only had to do with what their standards were, and how hard they were willing to work. And how much effort they were willing to put into their food program, basically."
To learn more about Amy Thielen, you can visit her website at www.amythielen.com. Amy's books are also available at Zandbroz Variety in Downtown Fargo.