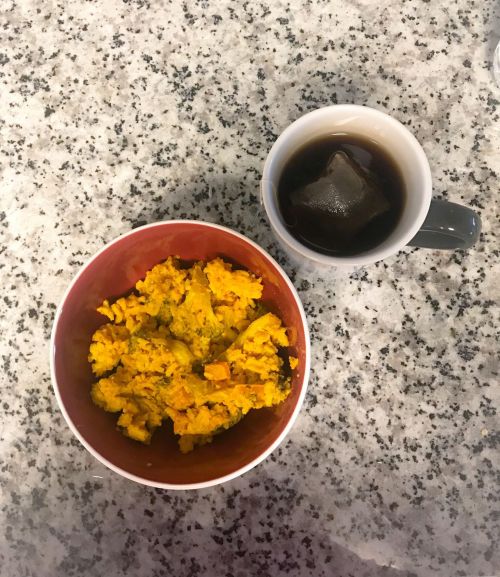 By Nataly Routledge
natalyroutledge@googlemail.com
My least favorite thing about being a college student is the limited selection of food that I am comfortable making with minimal ingredients and minimal effort. Plus, I liked to try to incorporate some veggies when I do end up cooking. The college diet isn't usually a colorful one, so cooking something tasty with a number of nutrients is a necessity when I have time.
Usually when I cook with friends, we make Indian food that takes several hours, a large quantity of dishes, and complex spices. After repeatedly making a series of tasty curries, I set out on a mission to make a quick and easy recipe that one person could make—while also doing homework. The result is a dish that I refer to as "curry in a hurry", and it is something I normally make once a week and eat for several days.
Another great thing about this dish is that a main part of its simplicity lies in the fact that is vegan. The spices provide complexity to the dish, and potatoes and coconut milk make it very filling. It's easy on the stomach and can be easily tuned to an individual's spice preferences.
So, what is needed to make this life-saving dish? First, spices are a necessity. The upfront cost of this dish may look like a bit much, but the great thing about spices is that they last a really long time. For my curry, I use turmeric, curry powder, black pepper, salt, cayenne pepper, cumin, coriander, nutmeg, and cinnamon. The key spices here are turmeric, curry powder, cumin, nutmeg, and cinnamon. The rest could be cut if necessary. However, it is best to compile what I call the "spice survival kit" in your cabinet at some point. Spices can add a lot of dimension and flavor to otherwise boring food and take no extra time to add.
Turmeric and curry powder give curry it's great yellow color and adds the base taste. Cayenne pepper gives it a little bit of a kick if desirable. The cumin, coriander, nutmeg, and cinnamon make up my substitute for garam masala. Making a mixture of spices yourself as opposed to purchasing garam masala works for those who would use those spices individually for other dishes. If those spices would see little action in your kitchen, then purchasing garam masala works.
Veggies in this dish are very flexible. Usually, I use whatever happens to be in my fridge, making this meal great for that day of the week when you really should go grocery shopping but would much rather stay home. Carrots, broccoli, onion, and potato are usually what I use. Sometimes I will either use bell peppers or cauliflower depending on what I have on hand.
The only other ingredients needed are a cup of rice, a can of coconut milk, a small can of tomato sauce or diced tomatoes (tomato sauce is normally better), and a splash of oil.
Sometimes when I make my curry a little too liquidy I end up adding some cornstarch, but as long as you keep an eye on the liquids you are adding, it should turn out.
So, to make the dish, start the rice. A cup of rice makes enough for a couple of days for me. Most rice packages have instructions for cooking the rice on the back. Then, cut up the veggies. I use 2-3 large carrots, a large russet potato, a small-medium sized head of broccoli, and half a yellow onion. I typically do my readings for school while cutting up vegetables. After that, start sautéing the veggies. The order normally goes as such: onion, then carrot and potato, then broccoli. As you add more you can begin to stir only occasionally. When the potatoes and carrots, in particular, began to become soft, gather your spices.
Now, here's the fun part. Every recipe has different proportions of spices, and I've yet to really write down that works for me. So, prepare to be a little adventurous. And when it comes to spices, you can always add more, but adding too much can result in a complicated dance trying to balance it back to where you want it.
Turmeric and curry powder are what you'll use the most of. I throw in over a teaspoon to start with and then normally go back and add a lot more curry powder. Only a dash of cayenne pepper is needed unless you like really spicy food. The cumin, coriander, cinnamon, and nutmeg should all be used in small amounts—no more than half a teaspoon. Salt and pepper should be done to taste. After adding your spices, mix them in with the cooking veggies very well, and then try a bite to see which spices you'd like more of.
After mixing the spices in thoroughly, open the cans of tomato sauce and coconut milk. Canned coconut milk has a very thick, creamy top part and then a watery bottom. If you like creamy curry, scoop out the stuff at the top and then just add a little of the watery stuff. Pour it and the tomato sauce in. If you need more liquid, add in the rest of the watery coconut milk. Then stir.
At this point, your efforts should really be done. Set your curry to simmer and then set a timer for 15 minutes. Stir it on occasion and make sure it doesn't boil. When your veggies are soft enough for your liking, you're good to go. Serve it over rice.
Now, all you have to clean is two pots and a cutting board. Plus, it makes enough food for several meals. While it may take some time the first time around, it ends up being a dish that is pretty mindless to make and great for a night when you need to be multitasking. The color is bright, the veggies are filling, and the coconut milk makes it rich but not heavy. And, you get to learn to balance spices and figure out what works for you.