​Deep Dish Peach Cobbler
by Deb Jenkins | .(JavaScript must be enabled to view this email address) | All About Food | May 20th, 2015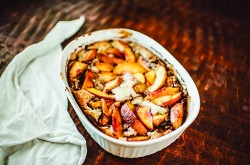 Mother's Day has passed, I wanted to honor my mom, Donella Peterson (who left way too soon some 13 years ago), by mentioning the wonderful cooking skills she taught me. She would tell you in a heartbeat that shewas "not a cook." But she was wrong. She was a cook -- and a very good one at that.
My mother was from the South and she was really good at making collard greens, mac and cheese and (oh my gosh) the best cornbread. I mean the best cornbread on the planet.
She was particularly good at desserts. One of my favorites was peach cobbler. And I dare to dispute those that say "well it's just peachpie." Nope. Not down South. It is called peach cobbler.
Donnie always made itin a round baking dish. It had drops of pie dough, just like dumplings, inside of it. It is the most delicious treat ever, and once or twice a year I make it. Though it's never like my mother's, I'm getting better at it every year. I think it's lovely when we grownups put food in our mouth and it brings back the memories of our mother and/or father -- or just plain old family.
So this a late Mother's Day honor to my mom,Donnie. Below is a recipe for peach cobbler taken out of "The Black Family Reunion Cookbook, Recipes and Food Memories from the National Council of Negro Women," copyright 1991.
Deep Dish Peach Cobbler
Serves eight people
Crust:
2 cups all-purpose flour
1/2 teaspoon salt
2/3 cupbutter or margarine
4-6 tablespoons water
Filling:
2 cans (29 ounces each)peach slices and syrup
1/2 cup firmly packed brown sugar
2 tablespoonsall-purpose flour
1/2 teaspoon cinnamon
1/4 teaspoon nutmeg
1/8 teaspoonallspiceDash of salt
1/2 cup reserve peach syrup
1 tablespoon lemon juice
1 tablespoon butter or margarine
1. Heat oven to 400°
2. For pastry,combine flour and salt in a medium bowl.Cut in butter until mixture resembles
coarse crumbs.Sprinkle with water while mixing lightly with a fork.Form intoball. Roll two thirds of Bill into 13 in square on lightly floured surface.Place in 8 in square baking dish.
3. For filling, drain peaches, reserve ½cup syrup.
4. Combine brown sugar, flour, cinnamon, nutmeg, allspice and saltin a large bowl. Add peaches, reserved syrup and lemon juice. Mix lightly.Spoon into pastry shell. Dot with butter.
5. Roll remaining dough into 9 inchsquare. Cut into eight strips. Place strips across fruit to form lattice.Sealand flute edges of pastry. Bake at 400 degrees for 40 to 45 minutes or until golden
brown.