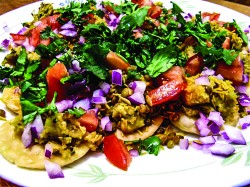 By Suzanne Hanson
The newest inhabitant of the Moorhead Center Mall is the Everest Tikka House. With one look at their Facebook page, a person can see that the reviews are already overwhelmingly positive. Quite an impressive feat, considering they have only been open for about two weeks.
Specializing in Indian and Nepali cuisine, fragrant spices are now prevalent in the air of the northeast corner of the mall. The former pizza joint has been transformed into a vibrant orange space with a touch of exotic flair. The restaurant is warm and inviting and the staff are attentive and friendly. The seating is both open and intimate at once. All this leads to what is really important—the food.
Several dishes are vegan or can be prepared vegan. For an appetizer, the veggie momos (a traditional fried dumpling) are worth the visit in and of themselves. Spicy and filling, they are perfectly complemented by a tomato dipping sauce. There are several main dishes to choose from. The usual favorites for the veg crowd are on the menu, such as Gobi Manchurian as well as several different varieties of vegetable masalas.
The Everest Tikka House also has a section of their menu devoted to Nepali cuisine. This includes dishes such as Jimbu Aloo, described on its menu as, "cubes of potatoes fried with mountain dry garlic leaves." The Nepali dishes offer a smoky, subtle contrast to some of the spicier dishes on the menu.
Management is also very accommodating in suggesting menu items that could be made with coconut milk instead of dairy. This significantly expands the menu for those who do not consume dairy but still want to enjoy the traditional taste of a cream-style sauce.
A buffet is offered during the lunch-hour, which includes at least a few veggie dishes. Though the best bet for vegan cuisine is to order right off of the menu.
At a recent planning committee meeting for October's FM VegFest at the Moorhead Center Mall, the owners of the Everest Tikka House were approached regarding items that were available but not yet on the menu. Now the current menu is updated to reflect all of the aforementioned vegan items. If enough interest is garnered, the owners would love to host an all-vegan buffet. This would consist of a choice of appetizers, entrees, bread and dessert.
If you want to eat your vegetables in a most-delicious way, check FMVeg.org for more information on this and other upcoming events.
IF YOU GO:
Everest Tikka House
Open everyday
420 Center Ave Unit #37, Moorhead
218-477-1111