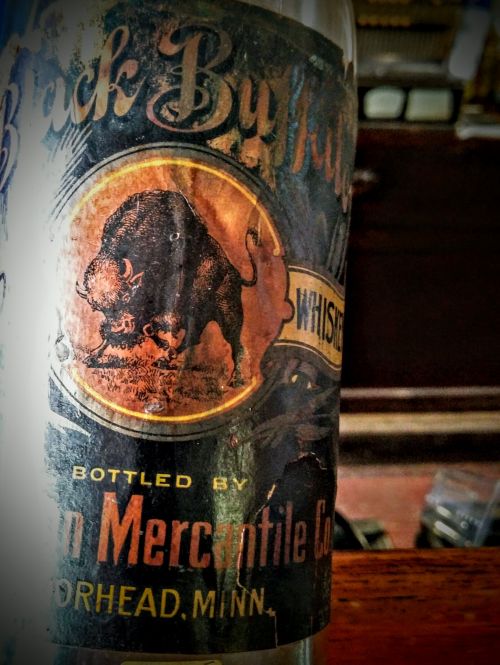 By Jill Finkelson
jsfinkelson99@gmail.com
At the turn of the century, prohibition was the hot topic and the "Wets" and the "Drys" made their way across the country. They clashed at the Red River where Fargo and Moorhead met on the way west. Dry North Dakota allowed a boom at the border. The little city of Moorhead suffered and boomed while alcohol still poured. Thirsty Minnesotans and North Dakotans filled up the almost fifty bar and saloons that popped up along the river.
They had tiny holes in the walls serving up local beer and brown jug whiskey and elaborate beer palaces. It was, of course, a different Moorhead, as the town has been almost completely been remade by urban development. When the bike path was dug up recently by the bridge, the project had to be overseen by an archaeologist as it is considered historically significant. Dr. George Holley, from MSUM's anthropology and earth sciences department was that archaeologist. I asked him to talk a little bit about what he learned. He talked about how they do their research. The area is of interest to local historians and stories from the saloon era are well known. There are plenty of stories from the Saloon Era that are well known in local history.
Dr. George Holley: The project I headed up involved studying and assessing the impact on archaeological resources in the creation of a new pedestrian pathway in downtown Moorhead. This pathway traverses near the Red River. Much of Moorhead's early history exists along the river as this was the first place settled. To a significant extent, this early history has been destroyed by urban development.
The area that we are working in is well known to local historians and to bottle collectors along the riverbank in downtown Moorhead. It is all that remains of the Saloon Era (1891-1915) when North Dakota went dry and Minnesota was wet. This disparity created a boon in liquor establishments in Moorhead along the two bridges that linked the two towns, the North and South Bridge. The South Bridge exists in roughly the same place, the North Bridge has been completely destroyed, its location moved and replaced by 1st Ave North Bridge.
Prohibition brought an end to the flourishing business. Some of the saloons switched to soda shops and pool halls and many of these and other businesses switched to become "blind pigs" or illegal sellers of prohibited alcohol or in other words continued the alcohol trade. This business sideline was terminated by Moorhead officials and eventually the end of prohibition brought an end to the illegal trade. By the 1930s a new road was created and the old North Bridge and surrounding business were derelict. No one entering Moorhead from Fargo could ever imagine what the past held in the riverine membrane that separates the two cities.
High Plains Reader: It looks like you do a lot of research on the local history. What draws you to this history?
Holley: Archaeologists, besides teaching, do two types of work: research and contract work. Research is work we do to solve issues that are of interest. Contract work involves fulfilling legal requirements in clearing or preserving archaeological resources. This project is contract work.
I have worked doing prehistoric and historic archaeology. Historic archaeology has always taken a back seat for me as it is not as popular in the United States. That is, the opportunities are not as frequent, although this is changing. I have found historic archaeology satisfying as I have worked on plantations in the south and log cabin sites in the Midwest. Tackling the saloons is an altogether new area of research.
HPR: Do you have a favorite story or tidbit about this place/time?
Holley: Historians have amassed a treasure trove of stories about the Saloon Era in Moorhead and I would only be copying their stories. I can give two relating to the archeology of the area. First, we knew that the area was lined with saloons but believed all evidence was destroyed by urban renewal. We conducted what are called shovel tests that are small holes (1 ft wide and 2ft deep) to see what is in the ground. We were shocked by what we uncovered in terms of broken glass, pottery, cinders, etc. The volume of trash was off the charts. It was difficult to even dig the hole for fear of ripping apart our hands – there was that much broken glass. We realized it was likely a midden or trash pile from the former saloons. Bottle hunters have long realized that this was here and have flaunted state law and risk the destruction of the site in hopes of finding intact bottles (more on that later).
I think the most interesting part of this place was that early in the investigations we realized that the riverbank was used to pitch flasks of hard liquor near the North Bridge. This opened up a new area of interest in the place that we did not initially realize. When we looked at historic work by Markus Krueger (HCSSC), we realized that this was likely deriving from the time of prohibition, in short we uncovered evidence of illegal behavior from the early 20th-century. By the way, although off-sale of alcohol is not illegal today, the area continues to be used to consume alcohol but the glass ½ and 1 pint flasks are replaced by plastic bottles.
HPR: For this dig, what sort of things were you looking for to shed new light on this time?
Holley: The project was not a traditional archaeological dig. We first walked the route and conducted shovel tests, which are 1 ft x 2 ft or more deep holes. The dirt is screened through a ¼" screen and we save all the material for analysis. After identifying potentially significant places we did some traditional excavation. In other places, we collected from the surface in a controlled manner. Lastly, we monitored the removal of the old path and construction of the new path to insure that no intact archaeological deposits would be disturbed.
HPR: Can you share some of your findings and what you conclude from them?
Holley: The growth of towns along the Northern Pacific Railroad was a fascinating story that involved a moving circus, if you will, of people and services. Once the railroad left the town, it was up to the locals to figure out a way to prosper. Moorhead became an important conduit for the movement of alcohol to the west, it was at the small end of a funnel that spread westward. The importance of saloons in boomtowns throughout the west has become a new area of study for historic archaeologists. Sitting in our position, we can contribute to an understanding of what moved through this funnel.
We have recovered only a fraction of the trash from the Saloon Row but it is a fascinating mix of liquor bottles, whiskey jugs, drinking containers, restaurant wares, and food remains. We have found pig knuckles and oyster shells (shipped from the east) that were some of the foods made available to patrons of the saloons. Let me relay four interesting findings.
The role of gin in the United State is a great story. Once considered a lower class alcohol, gin, particularly Gordon's Gin, emerged as a favored drink at the turn of the century. We have lots of fragments of bottles of gin as they are so distinctive. Brandy and whiskey bottles are less distinctive. But gin became so popular, a competing business emerged in St. Paul, Bowlin's King Cole Gin, that featured a bottle very similar to Gordon's Gin.
Whiskey stoneware jugs are an interesting but problematical part of the story. At least three establishments in Moorhead had their advertising stamp placed on the outside of the whiskey jug. We have found hundreds of fragments of these jugs. But that is the problem. These jugs are presumed to be for off-sale, but why did we find so many jugs along the river? I do not think they are consumed by individuals on the riverbank, nor can I imagine that they were accidentally broken at such a frequent rate to enter the archaeological record. They must have been used to pour whiskey in establishments, but I find this too hard to square with documentary records such as photographs of bar interiors that never show these containers.
Lastly, as mentioned earlier, the finding of glass flasks of ½ to 1 pint in size along the riverbank. We are able to distinguish flasks before prohibition and patrons were buying off-sale flasks and consuming them among the trees and ice wall of the Red River and throwing the bottles away. Perhaps, finishing before crossing the bridge to go home. With the onset of prohibition, we believe that this continued but intensified as judging by the high volume of flasks near the bridge. Unfortunately, it is difficult to precisely date these flasks as they occurred at a time when manufacturing changes had stabilized and we are left with dating the bottles from 1900 to 1930 or thereabouts. We also do not know how the illegal alcohol was sold, we presume in flasks but will need to find a way of documenting this in the future.
At Excavating Whiskey: The Archaeology of Moorhead saloons, the professor talks about an interesting time in the little town but also how we are still looking at it today. Even after sifting through modern bottle debris, there are clues to be found that show how things are different, and yet the same. Moorhead today would be unrecognizable from the time when it was "Fargo's Drinking District". There were rough and tumble hole in the wall saloons and elaborate beer palaces. Beer producers from around the state, like Hamm's and Duluth Brewing cashed in on the area, building "tied houses" that only sold their own beer.
Alcohol, in wet and dry areas, is often a blessing and a curse. It was lamented that, if you took away the bars, what was left? Moorhead was only a town of about 3,700. Most of the population made its living in some way from the trade from bar owners to "jag wagon" drivers. On the flip side, it's estimated that 70 percent of the crime was alcohol-related. The town wasn't known for organized crime (like St. Paul) but was considered a rough and tumble city. Which seems a far cry from our quiet Moorhead.