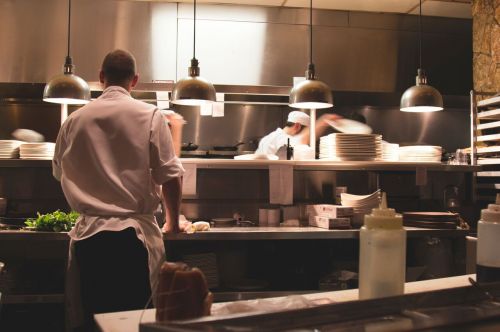 Every year the Fargo Moorhead area celebrates its love of food with Restaurant week. Each restaurant involved prepares a special menu to showcase the best of what they have to offer. This year there are seventeen restaurants involved including The Hodo, Boiler Room, Luna, Twist, The Toasted Frog, and even Leela Thai and The Everest Tikka House. Restaurant week is June 7th – 16th this year, and it won't disappoint.
I was fortunate enough to grab the restaurant week menus of some involved and be able to share them with you all. I hope you all get out and patronize these great establishments. I know I will.
Luna has three courses this year for starters they are offering a green salad including mixed greens, seasonal vegetables, and a house made salad dressing. For the main entrée the patron had their choice of either the soy glazed pork belly which comes with ramp kimchi, fried mushrooms, radishes, and tempura crumbs or asparagus and mushroom lasagna with smoky bleu cheese, parmesan, ricotta, fresh herbs, and garlic. The dessert is the diner's choice of their ever changing dessert menu. Last year I had the parsnip pie which was simply delicious.
This year Twist will be stepping out of the box a bit by trying its hand at the taste of Italian. Their menu will be composed of three courses. The first being an appetizer. A classic bruschetta with fresh mozzarella, basil pesto, and parmesan. The 2nd course is a salad composed of watermelon, heirloom tomatoes, triple berry(strawberries, blackberries, and blueberries). For the main course. A spaghetti primavera with three meatballs, parmesan, fresh mozzarella and toasted bread. They will not be presenting a dessert, but there is a new dessert menu starting this week that they urge you to explore.
Boiler Room will be serving both lunch and dinner specials during restaurant week. For lunch they are offering the Bourbon barbecue patty melt with caramelized onions, choice of a side, and lead with beer cheese soup. For dinner they will be offering three courses, starting with their salad which is an iceberg wedge with caramelized bacon and pecans. For their main course we have broiled shrimp served with mashed potatoes. Finally we have dessert, their chocolate bread pudding will be set in the limelight served with deliciously creamy vanilla bean ice cream.
Toasted Frog's first course will be an Anti-Pasta comprised of Grilled focaccia paired with a white balsamic reduction, cherry tomato jam, house made sausage, hand pulled mozzarella. Arriving second and providing two entrée options, either Pork Ribs which the chef described as braised pork ribs with black garlic gastrique, braised collard greens, fried polenta, chili oil and pickled vegetables. Or the Halibut which is Pistachio crusted and served with a melon and tomato salad and pickled spring onions. For dessert, Baklava with sweet corn ice cream.
The Hodo is doing both a lunch and a dinner also. For lunch offerings they provide for a first course a Cucumber salad comprised of English cucumbers, red onion, dill and lime crema. Second they present a Carnitas tostada with braised pork on a corn tortilla with shredded lettuce, tomato, avocado, and queso fresco. For dessert a caramel flan with orange supreme, pineapple sorbet, and toasted coconut whipped mascarpone. For dinner the first course is pans seared scallops with red pepper puree, pineapple pearls, and crispy prosciutto. Second course is the pork schnitzel comprised of fried pork loin, mushroom demi, German potato salad, and braised cabbage. For dessert, a rhubarb napoleon with roasted rhubarb, vanilla custard, honey glazed phyllo and lime whipped cream.
This is just a glimpse of what the restaurants in Fargo/Moorhead have to offer. There are many more and many great appetizers, salads, main courses and desserts. I recommend that you get to at least one, and if it's not one on my list that it's one on yours. I have always found that restaurant week is a great opportunity to get out and try something new, whether it's a new restaurant or a new menu item. Never stop exploring! Your palette awaits.
You should know:
FM Restaurant Week is June 7-16