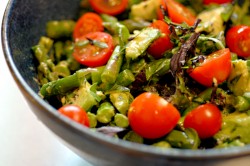 By Eric McKenzie
I found it difficult to decide what to eat yesterday. Seeking to never bore my flavor palate, I strengthen my connection with food through continuous learning and creativity.
Knowing that what I eat sustains me, mind and body, I make cooking a pleasurable experience. A podcast keeps me company through the tedious moments. If you don't have kitchen confidence yet, keep trying and know that it's always a recipe away.
Reset your taste buds
Can you remember a time when you weren't blinded by the psychology of food? It is time to experience a taste bud rebirth! Laboratory-perfected treats have taken over our grocery stores for too long. They amp up our taste buds, which makes everything else seem to taste subpar. Fruit and vegetables taste dull in comparison unless drenched in a salty and/or sugary liquid. Admit you are addicted, it's OK. Know that they are merely a temporary crutch to be put down after you become stronger and conquer your addiction.
The power of the mind
It is only when we eliminate then restrict ourselves, through willpower, from eating a food that we can be free from addiction. Strive for progress, not perfection.
It's very easy to be indulgent or stress-eat. I call this food evil because it demands gluttony by its very chemical composition. Robbing you of the potential health you could have since you aren't consuming what your body desires. Instead, you reward your mind with serotonin rushes. Bad bacteria in the gut also trigger cravings.
In an article published in the journal BioEssays, researchers from the University of California-San Francisco, Arizona State University and University of New Mexico concluded that microbes influence human eating behavior and dietary choices to favor consumption of the particular nutrients they grow best on. Grow mentally strong! Fight the urges set in place for repeat purchases. It will be hard but you will be happy you did. Your body will thank you for it!
Blinders on a horse
Some foods are beneficial to brain function but the cornucopia of grocery store gut-rot is not included. Calling these caloric monstrosities a treat/reward is a masochistic point of view. Some say "Everything in moderation."
I ask, "Who will moderate your rationalization?" Do you eat five-plus servings of fruit and vegetables every day? I joke, but is a line of cocaine really so different than devouring an entire sleeve of cookies? Bet you can't have just one! If you've been indoctrinated from birth, it's like having blinders on a horse. If junk food causes zero regret, you have blinders on. Seek out the root of your problem and see clearly.
Find the food/health connection before it finds you
Preparing wholesome foods and taking time to chew them can yield great results in waistline reduction and a greater sense of well-being. Problems such as acid reflux, IBS or Candida, to name a few, may confront you with this connection. You would be wise to not subdue them solely by medication. If you do, enjoy your time in the hospital, as you're more likely to be there on a poor diet.
No time
Many people eat poorly because their lives are all-consuming blobs of stress and cooking/dishes can just add to that. Trying to eat healthy can be very discouraging. If you love your family and yourself, you will make time! It's time to toss the insta-meals and noobie stoner food and tell our loved ones, "Let's start eating real honest food because, frankly, we are eating slow poisons." Don't let them rationalize their way out of it – make time and be rewarded.
The cost to be healthy
Americans spend less money on food and more on healthcare than the majority of the world. Why? We subsidize the wrong crops! Instead of making fruit/vegetables cheaper, we subsidize the evil foods. Pay a little extra for healthy food now or much more in medical bills later. Creating the demand for healthy foods will drive down the cost. Take back your tastebuds!
[Editor's note: Eric McKenzie is a foodie employed by Sydney's Health Market. He can be contacted at ericismckenzie@gmail.com.]