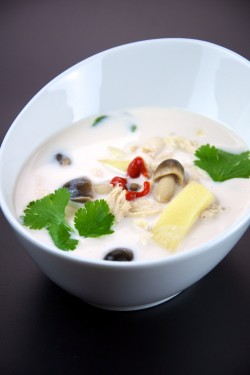 Usually I write about my food adventures to Minneapolis or Jamaica. But, hey, we drove 45 minutes due east and found some yummy food in the home of our friends Lucy and Tom of Detroit Lakes.
My husband and I have lucked out twice this month eating really, really well due to Lucy.
One weekend, she taught us how to make sushi, and another weekend she made some amazing Mexican food.
The first time Lucy invited us and a few of her friends over, to learn how to make sushi, it was really fun. Years ago another good friend, Steve, taught me how to make sushi also; in fact it was a whole day process of learning how to make all different kinds, but I'd forgotten how to do it.
There was good wine and good company -- and saki, of course -- during the learning process. One of Lucy's friends, Beth, made an amazing Tom Kha Gai soup. The recipe, she said, was straight out of Bon Appetit, which I will share with you all. The soup went perfectly fine with the sushi. It was so yummy. I can't tell you how much fun it was. However, I want to tell you that making sushi is a lot of work!
l decided that if I just make it once every month, then maybe I would get pretty good at it -- OK, well as good as someone that's not trained to do it, and whose husband would eat it no matter what.
So, the hard part about sushi is finding the right sushi-grade fish. That is going to be my mission.I can drive all the way to Motley or The Central Market in Detroit Lakes to buy sushi-grade tuna. Or I can wait until we go to Minneapolis and find those places that I can buy those products. I think I'll wait until I go to the cities.
The other wonderful meal Lucy made was a Mexican red chili huevos rancheros.What really made it special is that Lucy and her husband, who go to Albuquerque, N.M. every October for the International Balloon Fiesta, bring back fresh green chilies (a lot of them), and she'll make these delicious meals and invite friends over to partake. Only a crazy person would say no to that.
So I guess one is never too old to learn again; and even if a person cooks a lot, like myself, you never stop learning.
So thank you, Lucy, for great patience, teaching, company and conversation.I think she should be careful, though. Come soon, there may be a line of very hungry friends at her door.
Here is the Tom Kha Gai soup recipe from Bon Appetit:
INGREDIENTS
1 1-inch piece ginger, peeled
10 kaffir lime leaves or 1 tbsp. lime zest and ¼ cup lime juice
6 cups low-sodium chicken broth
1½ lb. skinless, boneless chicken thighs, cut into 1-inch pieces
8 oz. shiitake, oyster, or maitake mushrooms, stemmed, caps cut into bite-size pieces
1 13.5-oz. can coconut milk
2 Tbsp. fish sauce (such as nam pla or nuoc nam)
1 tsp. sugar
2 stalks fresh lemongrass, tough outer layers removed
Chili oil, cilantro leaves with tender stems, and lime wedges (for serving)
PREPARATION
Using the side of a knife, lightly smash lemongrass and ginger; cut lemongrass into 4-inch pieces. Bring lemongrass, ginger, lime leaves and broth to a boil in a large saucepan.
Reduce heat and simmer until flavors are melded or 8 to 10 minutes. Strain broth into clean saucepan; discard solids.
Add chicken and return to a boil. Reduce heat, add mushrooms, and simmer, skimming occasionally, until chicken is cooked through and mushrooms are soft (20–25 minutes). Mix in coconut milk, fish sauce and sugar.
Divide soup among bowls. Serve with chili oil, cilantro and lime wedges.