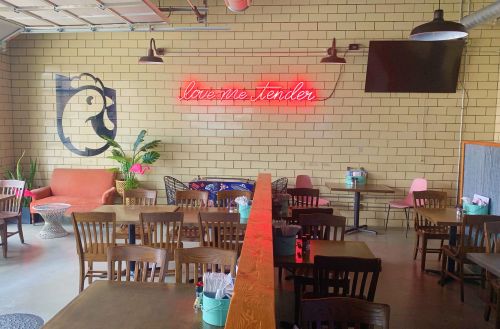 By Jill Finkelson
jsfinkelson99@gmail.com
The unassuming old truck shop on First and University is now frying up Funky Fried Chicken for Fargo. Their menu features chicken tenders and sandwiches with a selection of sides like pimento Mac and cheese (which I tried— delicious!) and rainbow slaw.
I called up to speak with Britt Behlquist about opening up a restaurant here in Fargo. Britt, and her husband, Alex, the chef behind the operation, are no strangers to opening up restaurants.
They started by opening up the Brew Ales and Eats in Perham, MN back in 2013. Since, they have opened up cool spots in Wahpeton and East Grand Forks. They took this opening nice and slow and had many taste tests for friends and family and a soft open for the community.
Tasting and tweaking their recipe to keep the chicken flavorful, crispy and gluten free. A "kick" of Alex's— fried chicken coincided with an unfortunate diagnosis with an allergy to gluten.
Fortunately for us, this was a minor speed bump for the chef. After much experimenting and taste-testing, they have made flavorful, crispy breading that happens to be gluten free too.
A gluten free bun is available upon request and most of the sides are as well. Britt agreed, talking about the process of perfecting the batter. As they branched out from the traditional flour batter, things started looking up. "It was even better- he brought me some home and it stayed crispy the whole way". That bodes well for a place offering take-out.
All the recipes were developed with Judd Eskildsen, who has since moved to their City Brew Hall location. Now head chef Jacob Bakken and Kevin Pomey run the back of house. Running the front of the house, is Sam Bennefeld, who also sings in the local band, Kissing Company.
Right now, the menu focuses on strips and sandwiches and a couple sides but they have big plans.
Brunch is definitely a must. Brit said they are trying and tasting for waffle and biscuit recipes right now. "We definitely want to expand our hours". They've only been open for about two weeks and right now they are open Thursday-sunday 11-9. Pretty soon, they'll be open everyday and ready to serve up weekday lunch and weekday brunch. They also want to expand out to do buckets of whole chicken.
"It's a process, the cooking and timing is different for that so we're still perfecting it," Britt said. "We'll probably start by doing it on Sunday nights, family meal style and see how that goes."
For now, you can get fantastic fried chicken tenders and sandwiches from 9-11 Thursday through Sunday. I got the Fargo Hot and would highly recommend. For tenders, they have a "sauce bar" so you can pick and choose your favorites. Personally, I'm looking forward to chicken and waffles.
YOU SHOULD KNOW:
Brew Bird Funky Fried Chicken
30 University Dr. North, Fargo