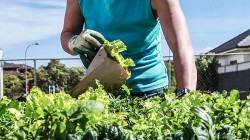 F-M's first ever Community Garden Day takes place Saturday
Fargo-Moorhead residents will have a chance to develop their green thumbs this Saturday at the first ever Community Garden Day.
Last year, four of the nine community gardens in the F-M area produced enough food to feed more than 200 families, according to event organizer Jack Wood, who hopes Community Garden Day becomes an annual event. Wood is one of the leaders of Growing Together, a community gardening ministry that unites Christians, Muslims and Hindus for gardening and friendship.
At Community Garden Day, folks will be encouraged to get dirt under their fingernails, coming together to grow healthy food, gain gardening knowledge and sow friendships. Wood said these gardens help connect fellow green thumbs, while the positive social impact helps New Americans and long-established citizens feel more at home in Fargo-Moorhead.
The food is delicious and nutritious, too. As produce prices across the country continue to climb, so does the number of people who trade produce for processed foods in their shopping carts. According to the U.S. Department of Agriculture, produce prices are expected to increase another 2 to 3 percent this year. Community gardens in the Fargo-Moorhead area provide locals with the opportunity to come home with fresh food if they are willing to volunteer a few hours a week.
The nine gardens are sprinkled throughout the two cities, and each one has a sponsor. The World Garden and The Gathering garden are sponsored by Growing Together Community Gardening. The other seven participating gardens are Cass County 4-H at the Red River Valley Fairgrounds, CHARISM Garden, Churches United for the Homeless, Garden-Able Garden (Gifted Learning Project), Golden Ridge Lutheran Church, Lutheran Social Services of North Dakota and Probstfield Farm.
Although it may be intimidating to some, digging into these gardens is for people with all levels of gardening experience. Some of the organizers themselves didn't get into growing their own produce until recently.
Mindy Grant de Herrera, a leader of Cass County 4-H Planters at the Red River Valley Fair, is in her first year of growing produce.
"I was spurred into community gardening by the local 4-H club that I help lead," Grant de Herrera said. "The children chose to work with a community garden as part of both our community service and our gardening project."
Other leaders are more experienced, including Noreen Thomas, CEO of Doubting Thomas Farms and an active member of the Gifted Learning Project, a non-profit organization which helps children with special needs.
"(When) gardens are shared, it is so much more fun," she said. "We always had exchanges going on. The food from the garden tastes like real food."
Each of the nine gardens is looking for help. Whether you're a rookie or have years under your belt, there's always room for growth.
IF YOU GO:
Community Garden DaySat, May 30, 9 a.m. to 12 p.m.
Various locations
Visit http://tiny.cc/oj4oyx for more info