​Getting pickled (eggs)
by HPR Staff | .(JavaScript must be enabled to view this email address) | All About Food | March 7th, 2018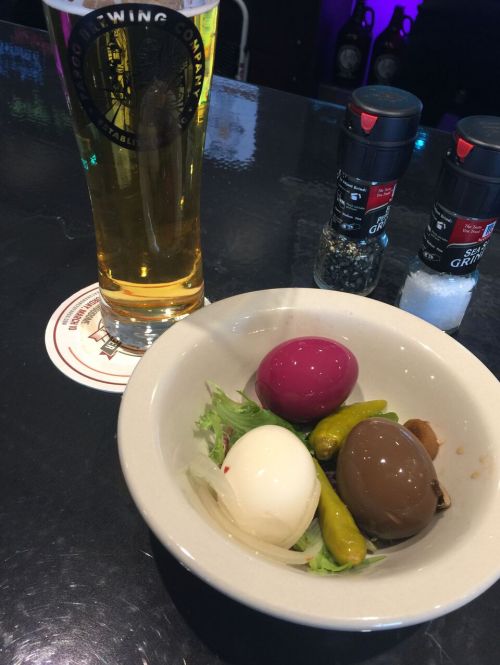 By Ben Myhre
benmyhre35@gmail.com
Pickled things warm my belly and tickle my tongue. When I see a sign for pickled eggs at a bar, it's like they are sending me a telepathic message, a message that there is something special about the place.
Pickled eggs are never the star of a menu and almost never a well-advertised item, but they are a highlight or an accent of a bar that is not easily forgotten.
There is an element of time that it takes to make great pickled eggs that seems counterintuitive to almighty profit. Bars that serve them, at least in part, seem to be doing it out of love and respect for bar food heritage.
Pickled egg culture and history
It is difficult to talk about pickled eggs in the F-M area without mentioning Lauerman's, the Broadway bar that closed in 2007.
I was not a regular at Lauerman's. I had been there enough and ordered enough pickled eggs to know that they had something special. Jim Lauerman's eggs have achieved a legendary status and that shows the power that these little neon globes can have.
Lauerman's might be legendary, but they didn't invent pickled eggs as bar food. Pickled eggs were most likely brought to America by German Immigrants in the 1700s. During the late 1800s, it was not unheard of for bars to provide eggs as part of a free lunch.
While most free bar foods today are meant to add salt and increase consumption, the eggs were also meant to add sustenance so patrons could drink more. Pickled eggs helped accomplish this. This was a time when cocktails were often served for breakfast, so something to fill their stomachs was important to stave off a pickled liver and ornery customers.
HighlightsLet's get down to it! I went to several bars in the F-M area looking for great pickled eggs. I may not have found every place, but I certainly felt it my duty and obligation to get to as many bars as possible for this important research. For science's sake, I was as thorough as possible.
The first pickled egg I want to talk about is The Fargo Ale House's. They have an appetizer that comes with three different pickled eggs.
According to my server, they have two eggs that stay on the dish and one rotating egg. There is a beet-pickled egg, common elsewhere, but which I haven't seen in the area before. They also serve a pickled garlic egg. Finally, the rotating egg was a soy egg. On the side, there are a few nice looking peppers and onions. You can tell that they take pride in what they do. They take the business of pickling seriously and I would recommend a visit for a beer and the pickled egg plate.
Second up is The Elks Lodge in far North Fargo. They serve up a pickled egg with bold garlic and spice flavors that are really delicious. I am not sure how many pickled eggs they go through, but the eggs have definitely been pickling for awhile. In terms of price, they cannot be beat: $1.00 for the egg itself or $2.50 for an egg and pretzels.
This place has the feel of a neighborhood bar with a colorful patronage of all ages. The bartender told me that one of the lodge members makes the pickled eggs, and you can taste the care in the eggs. While this place is a bit off the beaten path, if you are seeking great pickled eggs, this is one of the better ones that I have had in the area.
The egg that Tailgators serves is awesome. This is what I imagine when I think about pickled eggs. It has that neon green absinthe color and a spicy zing that I crave.
While Fargo Ale House provides a cool selection of great eggs you can't get anywhere else, Tailgaters serves up a best-in-class of what I expect from pickled eggs.
There was not much in terms of frills with this egg, as it comes with the egg and two small peppers. That is all that I need. It really is a great place to get a Something Lite and a pickled egg.
I suppose that the popularity of pickled eggs could be their downfall. It takes time to make a great pickled egg and a bar either has to be intentional about their pickling process or just not serve that many.
There is a sweet spot of time that adds to the flavor and texture of a great pickled egg and it is not trivial. Some say that an egg doesn't reach maximum flavor without being pickled for a few weeks up to several months.
If you haven't enjoyed a pickled egg before, I suggest you get out and try one of these places. Enjoy the beverage of your choice and try out this bar food that goes back hundreds of years. It has stood the test of time, as it is tasty enough to do so.
Any bar that serves up a tasty pickled egg is paying homage to the history of bar food and great flavors that some customers seek out.
[Editor's note: Ben is the mind and the tastebuds behind https://ramshacklepantry.com/]
YOU SHOULD KNOW
Fargo Ale House, 4445 17th Ave S, Fargo; (701) 205-4188
Elks Lodge, 3435 Broadway N, Fargo; (701) 293-5151
Tailgators, 1322 Main Ave, Fargo; (701) 293-2091