​God Jul to Fargo
by HPR Contributor | .(JavaScript must be enabled to view this email address) | All About Food | November 30th, 2016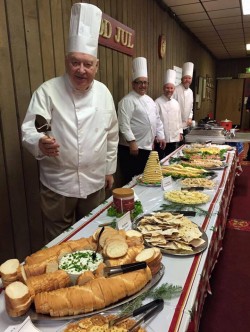 By Amy Venn amy venn86@gmail.com
The Traditional Norsk Christmas Event celebrates its 12th year on Friday, December 2nd, from 6pm at the Sons of Norway in downtown Fargo (but the bar is open from 5:30pm). The event, hosted by Norwegian immigrant Frode Tilden, celebrates Christmas Norwegian style with traditional food, a silent auction, and some American music.
The event, according to Tilden, began with 20 or so of his friends as a nod to the Norwegian tradition of julebord, meaning literally 'Christmas table.' Schools, companies, sports clubs, and social clubs hold their own julebord in Norway and a lot of Norwegians attend more than one during the holiday season. The gatherings consist of a lot of Norwegian food, alcohol, and late night dancing. It's a tradition worth upholding.
Since its humble beginnings, the Norsk Christmas Event has grown over the years to a well-attended function. Tilden has had to enlist the help of his friends and volunteers to keep it going. The event gradually transformed itself into what it is today. Tilden explained, "The first few years there were just door prizes and then we thought, 'Hey, how about we make some money and give it away to a good cause?'"
Those good causes are close to Tilden's heart and the beneficiaries include the Concordia Language Villages (CLV) and the Sons of Norway Foundation. This is the 5th year of the silent auction and bids will be excepted from about 6pm to 8pm. There are over 60 items to bid on, including four bottles of alcohol from Proof Distillery and cross country skis donated by Paramount Sports, both of Fargo. There will also be various gift cards and baskets on which to bid.
The real crowd pleaser might be the food, as Tilden believes it's what people really come for. This year the chef from Sons of Norway is serving up two kinds of meatballs, kransekake (traditional Norwegian wedding cake), lefse, pølse i lompe and hot dogs, smoked salmon and scrambled eggs, rommegrot (a Norwegian sour cream porridge), flat brod (thin, cracker-like bread that is paired with butter), Norwegian heart-shaped waffles that are served with cream cheese or sour cream and jams, and of course gjestost (goat cheese), and brunost (brown cheese).
There will also be a hot drink called gløgg. "It's made with fresh ginger, whole cloves, cinnamon sticks, brown sugar water, a concentrate, this time it was blueberry, a whole bunch of water and orange," Tilden described, "You put all that stuff together and it soaks for a couple hours until the cinnamon sticks give all they've got and float to the top."
Tilden is originally from Norway and moved to Grand Forks in 2001 to attend the University of North Dakota. Upon graduating in 2004, he moved to Fargo and has been here ever since. "Instead of going to a university in Norway, I thought, let's explore the world," Tilden recalled, "I was an exchange student in 1995-1996 in Decora, Iowa. I was there for a year and went back to Norway and finished up my military duties and college and such before I came back to UND."
Tilden's Norwegian roots fit right into the Fargo area, but there is room to do more celebrating of the Norsk culture. He hopes to engage the community more in the celebration of Syttende Mai, which is Norway's Constitution Day. There is a children's parade called Barnetog and the day is filled with music, traditional costumes, food, and drink. Tilden likens the day to St. Patrick's Day for the Irish.
To get a taste of Norwegian culture this holiday season, tickets can be purchased for the Traditional Norsk Christmas Event for $20 at Sons of Norway, ScanDesign, or Stabo Scandinavian Imports. Tickets are limited.
IF YOU GO:
Traditional Norsk Christmas event
Friday, December 2, 6-12:30am
Sons of Norway, 722 2nd Ave. N